Option Alert
An option alert is a piece of software that alerts you when certain conditions exist for the option. For example, it might alert you when the annualized rate of return reaches a certain threshold, or when the open interest exceeds some number of contracts.
Born To Sell's Watchlist feature offers an option alert that is customizable. You start by telling the system which stock or ETF symbols you are interested in (as many as you like). Then, the alert software will keep an eye on those stocks and when the option premiums reach your user-defined level it will send you an email alerting you to that fact. No need to keep checking every five minutes; just sit back and wait for the alerts to come to you.
In addition to the Watchlist alerts, Born To Sell's covered call screener will filter and sort covered calls according to your personalized investment criteria: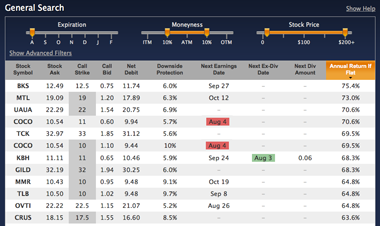 Having an alert service combined with a customizable screener is a powerful combination. You can also see the symbol's entire covered call chain, showing you the if-called and if-flat returns (both absolute and annualized) for every covered call available. A real time saver when trying to decide which option to write for a stock you like.
If you would like to learn how to use the Watchlist option alert to find the best covered calls, sign up for our free newsletter or a 2 week free trial of our service.
Born To Sell is dedicated to having the best covered call tools available. We offer an easy to use screener, as well as several portfolio management tools designed to help you maximize your monthly income.