Save Time
Make Money
Fast & Easy
Options Trading Made Easy
Born To Sell is a subscription service dedicated to covered call investors.
We save you time. We help you make more money. We make options trading easy.
Beginners and experts alike are welcome. We offer fast, easy, and intuitive tools for all
options trading levels. If you're new to covered call investing we have a free Tutorial.
Searching & Filtering

Top 10 shows what other Born To Sell members are doing.
Not sure where to start? You can see the 10 most popular covered calls across all our members (data is anonymously aggregated; your privacy is assured).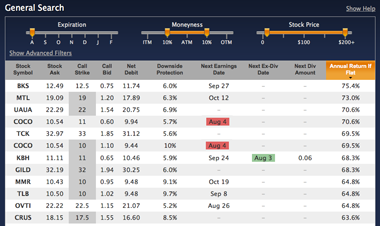 Search all available covered calls instantly.
Touch any filter and the results are updated immediately (no need to press a 'Search' button or wait for slow refreshes).
Covered calls that have earnings releases or ex-dividend dates before expiration are clearly highlighted.
Specialized search modes to help with deep in the money covered calls, dividend capture, and advanced filtering.
Sort by any column, and edit the columns to show or hide just what you want. Prices update during market hours.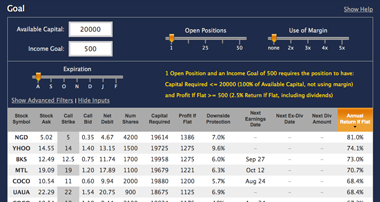 Income Goal helps you meet your monthly income goal.
Enter your available capital, income goal, use of margin (if any), and number of open positions you want to manage.
Goal then finds covered calls that meet your requirements.
Choose a number of covered calls from the list (equal to your open positions) and you will have a set of investments that, if all goes well, will meet your monthly income goal.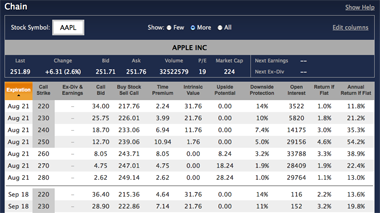 Chain displays the covered call chain, with bonuses.
The Ex-Div & Earnings column alerts you to ex-dividend or earnings dates before expiration.
Like Search, sort by any column and edit which columns you see (18 to choose from).
In the money covered calls appear with strike price in grey.
Portfolio Management
Born To Sell's collection of unique tools to manage a portfolio of covered call investments is unparalleled.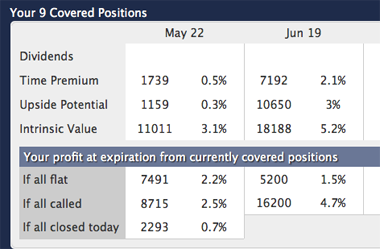 Summary shows how your portfolio is currently doing and what you can expect between now and expiration.
Say goodbye to non-updating incomplete spreadsheets!
Now you can quickly see how much time premium (income) you have yet to collect between now and each expiration.
See what happens if all your stocks are flat (unchanged) between today and expiration, or are all called at expiration, or are all closed today.
And, as you'd expect, all of the numbers update during market hours as prices change.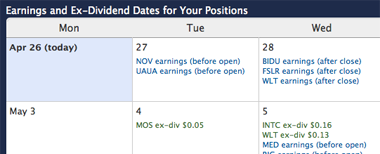 Personal Calendar shows earnings release and ex-dividend dates for stocks in your portfolio.
Never be surprised or forget to lookup when your stocks are about to pay a dividend or release earnings.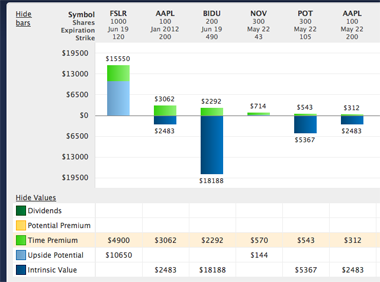 Dashboard shows the time premium remaining and other attributes of your positions (the details behind Summary).
Use this tool to maximize your time premium capture per month by finding the positions with only a tiny bit of time premium remaining and then using the Roll Me tool (below) to modify the position.

Cover Me lets you play 'what if' scenarios with your uncovered positions and plan for the upcoming cycles.
Set the strike for each uncovered position (before you sell them) and see if the premiums add up to what you are seeking. Once you get them set just right, go place the trades.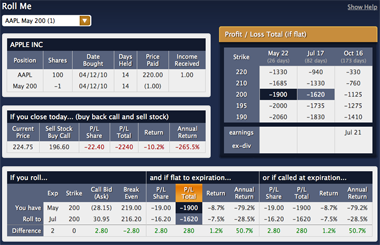 Roll Me shows what happens if you modify your current position to a different strike or expiration month.
There's nothing else like it. Compare 15 options at the same time and see the exact difference to you in terms of break even point, profit/loss, rate of return, etc, if you were to buy back the option you've already shorted and sell another one with a different expiration or strike.
No more rough approximations or spreadsheets! You'll wonder how you ever lived without it. We know we did.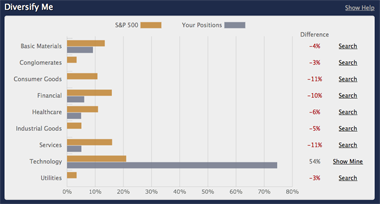 Diversify Me compares your positions to the S&P 500 by industry sector and can then help you find covered calls in any underweighted sectors.
Ever feel you were overweighted in some sectors but didn't take the time to really calculate it?
It's common. But too much sector concentration can hurt you when one of your sectors falls out of favor. Now with one click you can see if you are over or under weighted by industry sector, and then Search by sector to rebalance your portfolio.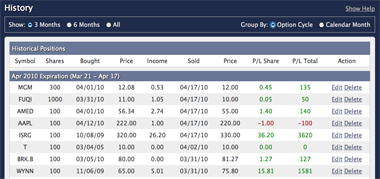 History keeps track of your historical transactions.
Group transactions by option cycle (wicked cool) or calendar month. Easy to track how your trading is progressing.
Email Alerts
We have several user-configurable email alerts that members can opt-into if they like:
Watchlist Alert - Tell us what symbols you like and what kind of annualized rate of return you're looking for; we'll keep an eye out for you.
Dividend Alert - Not only will we tell you when you receive a dividend, but we'll do the housekeeping for you (add the dividend amount to Income Received for each of your dividend-paying positions).
Seller's Paradise - Born To Sell's company newsletter for options trading covered call writers.
Covered Call Options Trading Tutorial
If you're new to covered calls, or need a little refresher, you'll enjoy our easy to read Covered Call Tutorial.