Top Covered Calls
Finding the top covered calls is easy with Born To Sell's intuitive covered call screener. We anonymously aggregate all of our members' positions and show you the most popular ones:

The covered call at the top of the list is the current favorite investment across all of our members (for those members who choose to report their holdings). The list is updated real-time. Whenever a member changes one of his or her positions the top covered calls list is recalculated and updated immediately.
In addition to the Top 10 list, Born To Sell has many other covered call features, such as our General Search feature, which filters and sorts the covered calls that match your personalized criteria to the top of the list (see a live demo of the covered call screener):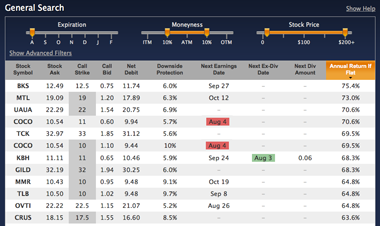 If you would like to learn how to use covered calls to increase your portfolio yield and generate recurring monthly income, sign up for our free newsletter or a 2 week free trial of our screening service.
Born To Sell is dedicated to having the top covered call investment tools available. We offer a best of breed covered call screener, as well as several portfolio management tools designed to help you maximize your monthly income.