Best Covered Call Stocks
The best covered call stocks are those that you don't mind owning in the event they are not called away, and that also pay a decent call premium. Losing covered call strategies include chasing high yields by buying stocks you don't want to own if not called, as well as buying stocks that don't pay enough in call premium to compensate you for the risk of owning them.
Use a covered call screener to help you find the best covered call stocks, save you time, and improve your investment results. The screener will produce a list of candidate stocks that you can then begin diligence on to see if you want to own them for the medium or long term (in case they're not called at expiration). The best ones are those where you get paid a good premium AND you don't mind owning them beyond the option expiration date if it turns out that way.
Born To Sell's General Search feature will filter and sort the best covered calls according to your personalized investment criteria: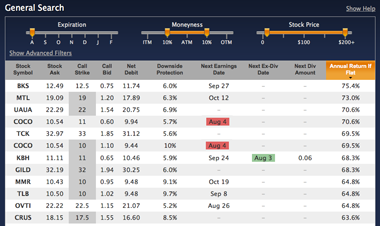 In addition to the basic filters shown above, advanced filters are available to keep you out of trouble. For example, with a single click you can remove all options that have an earnings release date prior to option expiration. Or maybe limit results to only those that have an ex-dividend date before expiration.
If you would like to learn how to use an options screener to find the best covered call stocks, sign up for our free newsletter or a 2 week free trial of our service.
Born To Sell is dedicated to having the best covered calls available. We offer an easy to use screener, as well as several portfolio management tools designed to help you maximize your monthly income.