How To Write Covered Calls
Writing covered calls is a time honored way to increase yield from stocks and ETFs you already own. Learning how to write covered calls is easy, and you've come to the right place.
For starters, we have an easy to read blog article on How to write a covered call and a full covered call tutorial that teaches you how to write covered calls.
Born To Sell's Search feature will filter and sort covered calls according to your personalized investment criteria. It's super easy to use, with friendly sliders to set filter parameters: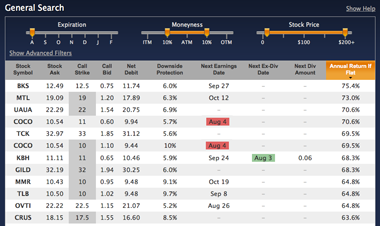 In addition to the basic filters shown above, advanced filters are available to keep you out of trouble. For example, with a single click you can limit results to only those that have an ex-dividend date before expiration. Or remove all options that have an earnings release date prior to option expiration.
If you would like to learn how to write covered calls to generate recurring monthly income, sign up for our free newsletter or a 2 week free trial of our service.
Born To Sell is dedicated to having the best covered call screener available. In addition the screener, we have several portfolio management tools designed to help you maximize your monthly income.