Investment Software
If you want powerful and easy to use investment software then congratulations, you're here. Born To Sell provides best of breed software and tools for option investors.
You will save tons of time and improve your trading results. Our software makes it easy to quickly remove entire classes of risky investments (like options on stocks that have earnings before expiration, or options that are so thinly traded they have wide bid-ask spreads).
What kind of investment software can you expect?
Here are some popular features of the software:
Top 10 Covered Calls
Covered call screener with custom filters
Dividend capture covered call tool
Income Goal tool
Max Protection tool
Dashboard with time premium graphics
Full tutorial, blog, and newsletter (all free!)
Here is a screen shot of the General Search tool, taken right from the software. As you can see, it helps you quickly identify covered calls that match your personal preferences (notice how earnings release dates before expiration are in red, while ex-dividend dates before expiration are in green):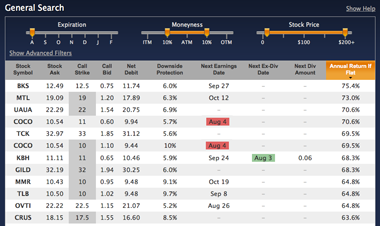 If you would like to learn how to use an options screener service to find the best covered call stocks, sign up for our free newsletter or a 2 week free trial of our service.
Born To Sell is dedicated to having the best investment software available. We offer an easy to use screener, as well as several portfolio management tools designed to help you maximize your monthly income.