Kiplinger magazine's article 7 Best Dividend Stocks of the Dow lists stocks that have a strong track record of dividend increases and a business outlook good enough to support continued dividends and long-term stock price growth.
The 7 stocks Kiplinger chose are: HD, MSFT, MMM, NKE, UNH, UTX, and XOM (you can read the article to find out their comments on each of those stocks).
Dividend Yield
Those 7 stocks have annual dividend yields ranging from 1.0% (NKE) to 2.9% (XOM), with the average just over 2.0%. They aren't the Dow stocks with the highest current dividend yields because those companies are typically ones with below-average prospects for earnings and dividend growth.
But for income investors, 2%/year yield is pretty low. Hard to live on that. We can do much better by layering on some covered calls.
Increasing The Yield With Covered Calls
For the December 20, 2014, expiration, here are some double-digit annualized yields for each of the 7 symbols (some symbols have more than 1 listing with annualized yield > 10%):
Because the ex-div date on the UNH dividend is before the option expiration date, the Return If Flat columns do include the dividend in their calculations. Note that 7 of the 13 above covered calls are in-the-money, reducing the risk a bit.
Going Out 2 Months
For a slightly longer covered call, say 2 months until the January 17, 2015, expiration, here are some double-digit annualized yields: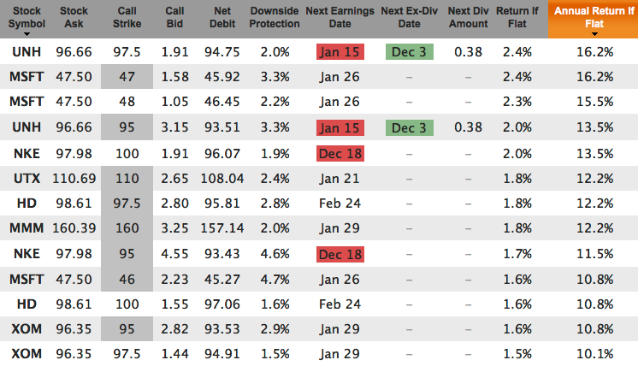 Once again more than half of these are slightly in-the-money, giving you a bit of extra downside protection. And because these are 2-month options there is slightly less work to maintain the positions. You'd only have to write the calls 6x per year instead of 12.
Higher Yield Than Buy-And-Hold
Earning around 10%/year won't make you rich quick. But it's a lot better than the 2%/year that buy-and-hold investors would realize from the dividend yield alone. As always, though, you shouldn't take Kiplinger's word for it that these are the stocks for you. Do your own research, stay diversified, keep your positions reasonable, and make sure they are appropriate for your personal risk/reward profile.
Mike Scanlin is the founder of Born To Sell and has been writing covered calls for a long time.