InvestorPlace is having a contest, 10 Best Stocks for 2016, that features 10 stock picks from money managers, market experts and financial journalists. They are competing against each other for the best return throughout all of 2016.
Each investor chose 1 stock as their best idea for 2016. The picks are:
| Investor | Pick | Symbol | Div Yield |
| --- | --- | --- | --- |
| Paul R. La Monica | American Express | AXP | 1.7% |
| Charles Payne | Buffalo Wild Wings | BWLD | - |
| Mike Turner | Chipotle Mexican Grill | CMG | - |
| Jason Moser | Ellie Mae | ELLI | - |
| Charles Sizemore | Energy Transfer Equity | ETE | 8.3% |
| Jon Markman | Globant | GLOB | - |
| Rick Rouse | Rave Restaurant Group | RAVE | - |
| John Divine | Snap-on | SNA | 1.4% |
| Louis Navellier | Total System Services | TSS | 0.8% |
| Hilary Kramer | Domtar | UFS | 4.3% |
Best Stock Picks For 2016 Made Safer
Although the contest states that these picks are meant to be buy-and-hold positions for 1 year, readers of this blog will probably want to write covered calls against them, thus gaining some income and downside protection in exchange for reduced upside potential. All of these stocks offer options, making them candidates for covered calls.
11-day Covered Call Trades
If you take those 10 symbols and plug them into Born To Sell's Watchlist feature, you find that 7 of them offer strike prices that yield at least 1%/month or more on an annualized basis (i.e. their Annual Return If Flat is >= 12%) for the Jan 15 expiration date. And none of them have an earnings announcement prior to the Jan 15 option expiration: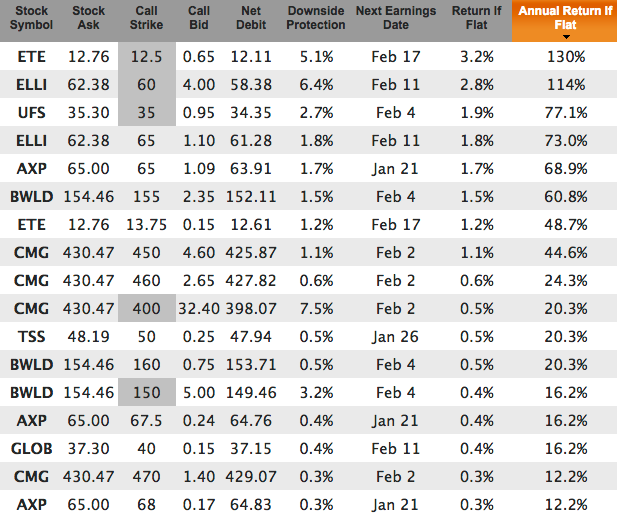 44-day Covered Call Trades
If we do the same exercise but set the expiration date to Feb 19 (next monthly expiration date) then there are fewer choices, and all of them have earnings risk.

To avoid earnings risk, one strategy would be to focus on weekly covered calls for these stocks during weeks that don't have an earnings announcement. Perhaps sell an in-the-money strike with an expiration of the week prior to earnings announcement week, hoping that it will get called away so you can sit out earnings week. You might miss a big move caused by earnings but if that move is to the downside then you'll be glad you missed it.
Note: These are not trade recommendations. These are candidate trades based on the 10 expert investor picks for 2016. Do your own research, keep position sizes modest, and stay diversified.
Mike Scanlin is the founder of Born To Sell and has been writing covered calls for a long time.