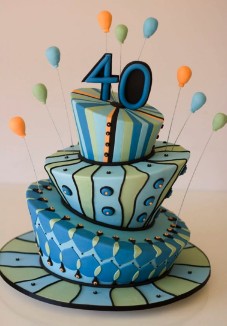 40 years ago today, on April 26, 1973, what eventually became the Chicago Board Options Exchange (CBOE) began trading call options on 16 different underlying stocks. A total of 911 contracts changed hands that day in a room that had formerly been the smoker's lounge for the members of the Board of Trade.
Today, CBOE is the largest options exchange in the U.S., trading more than a billion options contracts annually.
Prior to standardized option contracts there were private contracts negotiated one at a time. In 1972, for example, if one wanted to buy an IBM call, an options broker would have to find a seller. Then, the length of the option would have to be agreed upon (typically, 35, 65, or 95 days); the seller would "write" a contract; and the deal would be done. But the strike was always the stock's last sale price. In this example, maybe IBM was at 215⅜. Even if IBM advanced to 230 over the next two weeks, putting the call 14⅝ points in the money, it would have been virtually impossible to sell the option because there was no secondary market.
Standardized striking prices and expiration dates revolutionized the market. Along with a central clearinghouse (the OCC) to break the direct link between buyer and seller, and to stand behind the contracts, they helped options explode. The publication of the Black-Scholes option-pricing model in 1973 was instrumental in the industry's growth, too.
Deb Peters, now a vice president at the exchange and the director of CBOE's Options Institute, was present when standardized options began trading. "I had been working with a brokerage firm in what was called 'The Cage', where we took stock in and paid out checks," Deb said. "My boss came in one day and told me, 'I've got to put together a bunch of people because there's talk of trading these things called options. This thing is never going to go, but the firm says we've got to do it, so you guys are going to learn about it.'
From its humble beginnings CBOE quickly grew. By the summer of 1974 daily volume had reached more than 20,000 contracts. The following year the American and Philadelphia Stock Exchanges had opened their own option trading floors. Concerned about the explosive growth of the market, in 1977 the SEC put a moratorium on new options while they reviewed the structure and regulatory practices of the exchanges. It was lifted in 1980.
"When we started trading index options in 1983 it was a big thing," said Deb. "I remember the record volumes and staying all night to make sure all the trades cleared. It was fun being part of an industry that had started from nothing and was growing by leaps and bounds. I remember when we hit 250,000 contracts a day, and we thought that was incredible, then hitting 400,000 contracts and we couldn't believe we were actually doing it."
"It's amazing to think that when the industry does 15 or 16 million contracts a day we now think of that as light volume. I remember when we hit 100,000 and thought we'd never be able to keep up with it!" Deb concluded. "But even knowing how far we have come, I am more excited about our future growth. There are so many things you can do with options. Even after 40 years, we're still in our infancy."
Happy 40th Birthday CBOE!
Mike Scanlin is the founder of Born To Sell and has been writing covered calls for a long time.