The Wall Street Journal article Options For Nervous Investors on covered calls says:
"There is one way to steady a stock portfolio without unloading shares, however: an options strategy known as "covered calls." The idea is to collect extra income now in exchange for giving up potential gains later." WSJ, Dec 10, 2011
It goes on to mention the BMX (S&P 500 BuyWrite Index, which simulates owning the S&P 500 and writing covered options each month) and how it has beaten the S&P 500 over a 10 year period (4.2% vs 2.9%) and a 20 year period (8.4% vs 8.3%) but with much less volatility than the S&P 500: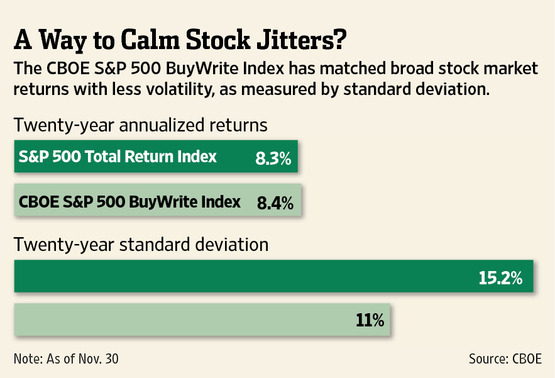 Investing In Covered Options
Investors can buy into the BMX index through PowerShares S&P 500 BuyWrite Portfolio (PBP) or the iPath CBOE S&P 500 BuyWrite Index (BWV). Of course, given the fees involved, self-directed and disciplined investors could choose to manage a portfolio of covered call investments themselves. Selling covered options can be done on broad-based ETFs to avoid single-stock or single-sector risk, or it can be done on whatever basket of stocks the investor already owns to generate extra income and lower the volatility of an investor's portfolio.
To read the full article, please see Options For Nervous Investors.
Mike Scanlin is the founder of Born To Sell and has been writing covered calls for a long time.