Goldman Sachs' Dividend Growth basket contains 50 stocks with a median expected 2016 yield of 3%. Goldman expects these companies to raise their dividends by an average of 12% in 2016. In comparison, the median S&P 500 stock has an expected dividend yield of 2.2% and an expected median dividend growth of 7% next year.
TheStreet recently took Goldman's list of 50 stocks and chose 10 based on expected dividend growth of 15% or more along with higher than average ratings according to TheStreet. The resulting list of highly-rated and likely-to-increase-dividends stocks is: AMGN, CMI, F, HOG, HST, JCI, MPC, NLSN, PNR, and RF.
10 Stocks Set For Huge Dividend Increases
Here are the stocks, along with their current dividend data:
Symbol
Recent Price
Dividend
Yield
Annual
Payout Ratio
2015-2016 Expected
Dividend Growth
AMGN
151.15
2.1%
32%
19%
CMI
119.08
3.2%
37%
18%
F
13.73
4.4%
30%
20%
HOG
54.50
2.3%
28%
16%
HST
17.63
4.5%
49%
30%
JCI
40.13
2.6%
28%
15%
MPC
46.53
2.7%
26%
16%
NLSN
45.68
2.4%
41%
48%
PNR
53.44
2.4%
33%
17%
RF
9.61
2.5%
29%
17%
Covered Calls On Goldman's and TheStreet's Picks
You can read this article to find out more about these 10 companies and why TheStreet likes them. In the mean time, let's plug them into Born To Sell's covered call screener.
For the Sep 18 monthly expiration (which expires in 5 days, so this is a weekly trade), there are 16 covered calls offering Annualized Return If Flat (ARIF) of 27% or more: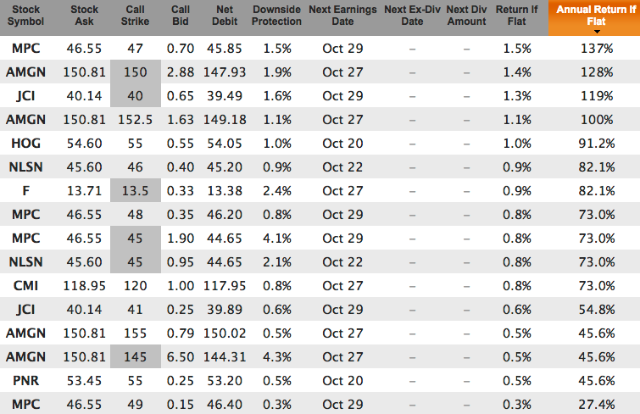 The good news about that list is that there are no earnings releases scheduled for this week. On the downside, there are also no ex-dividend dates this week. Presumably you would plan to hold these into 2016 to take advantage of any dividend increases that may occur, so what happens this week is probably less important.
October Covered Calls
If we look at the Oct 16 monthly expiration then we find 15 candidate covered calls with ARIF > 20% (nothing magical about 20%, some investors like to use that as a guide):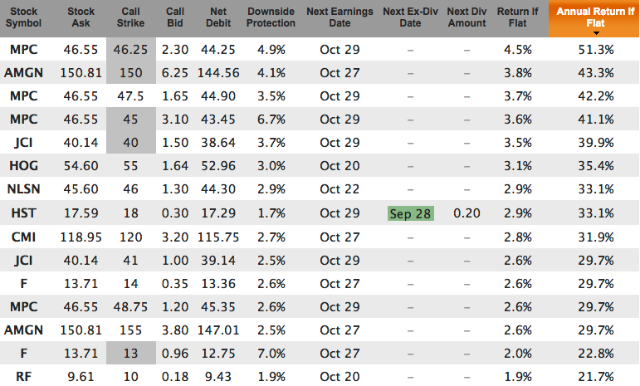 From that set there are also no earnings releases expected, and there is one ex-dividend date scheduled before the Oct 16 option expiration, so dividend capture fans may want to look into HST.
November Covered Calls On These Likely-to-increase Dividend Stocks
For investors who want to go out to the Nov 20 monthly expiration, we find there are only 5 candidates offering ARIF > 20%, and all of them come with earnings risk: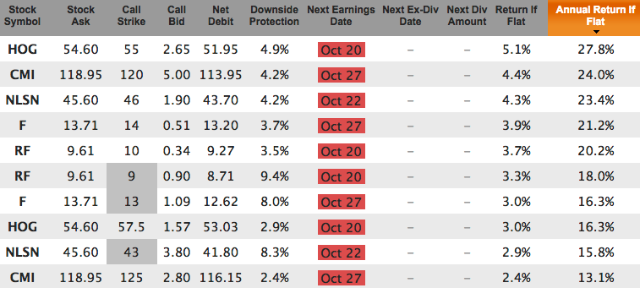 But, once again, if you're planning on holding these well into 2016 (to take advantage of the predicted dividend increases) then one or two earnings releases shouldn't matter. You have a longer term view and would hope to write a series of covered calls against these positions while you wait for the dividends to increase.
As always, these are not trade recommendations. These are candidate trades ideas only. Do your own research, keep position sizes modest, and stay diversified. Good hunting!
Mike Scanlin is the founder of Born To Sell and has been writing covered calls for a long time.