Five tech companies are currently competing to see who can be the first to achieve a one trillion dollar ($1,000,000,000,000) market cap:
Name
Current
Market Cap
Current
Share Price
Trillion $
Share Price
% Gain
To $1T
Apple
941B
$193.03
$203.56
5.5%
Amazon
877B
$1796.62
$2061.07
14.7%
Alphabet
833B
$1201.26
$1441.08
20.0%
Microsoft
801B
$104.19
$130.19
25.0%
Facebook
600B
$206.92
$345.17
66.8%
Or, visually, courtesy of TheStreet: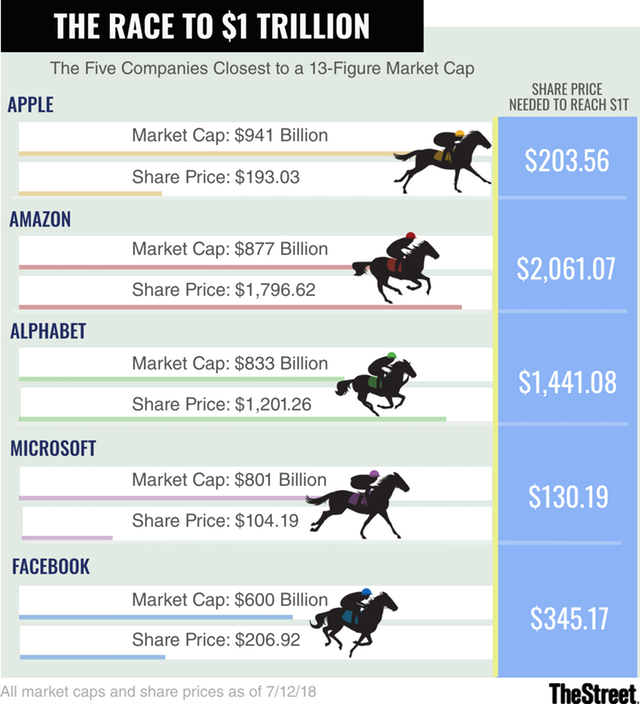 Covered Calls On A Trillion Dollar Company
In addition to being large cap tech stocks, these 5 companies also make pretty good covered call candidates, so long as you can handle some volatility. Plus you need a pretty big portfolio to write covered calls on GOOGL and AMZN given their stock prices (because 100 shares of AMZN costs about $180K).
But if you did want to write calls against these, they are all offering 20% or more annualized return for at-the-money (or very near the money) options for next Friday's (July 20) expiration: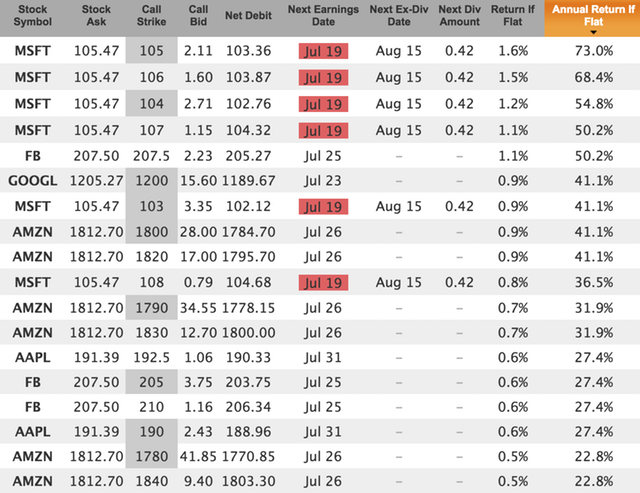 If you want to go out to the next monthly expiration (August 17) you will have to deal with an earnings release. Might want to do an in-the-money buy-write to reduce some earnings risk. Here are a few ITM candidates yielding 10% or more annualized return: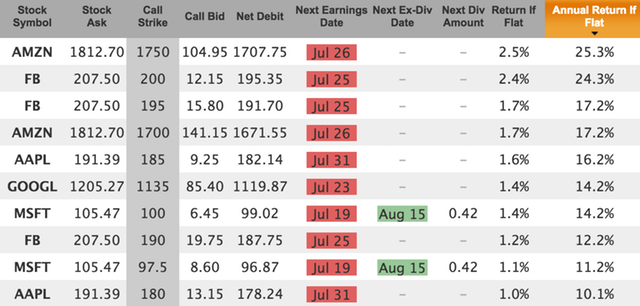 These companies have all had pretty good runs recently, so any earnings weakness (or weak forecast) could cause a correction. As always, do your homework, keep position sizes modest, and stay diversified.