For different reasons, both gold and steel stocks could make for decent covered calls in the near term, according to Schaeffer's Investment Research. Gold stocks have lost some momentum because of rising prospects of a March interest rate hike. But some of the technicals imply there could be some winners in the sector. Steel stocks, on the other hand, have been strong lately, as evidenced by the 60% year-over-year gain in XME (S&P Metals and Mining ETF).
Gold Stocks
Schaeffer's likes the technicals of NEM and GG. For NEM it has to do with a possible oversold condition as well as a large at-the-money put position for next Friday's expiration. For GG there is a similar oversold condition which in the past has given a high probability of 21-day positive returns from this point.
In addition, should the Fed decide not to increase interest rates in March, that would be a positive shock (since most are expecting an increase at this point). Plus there is the potential for analyst upgrades, with about half of all analysts giving a Hold or Sell recommendation. Lastly, there are 25 million GG shares short, setting up for a potential short squeeze. You can read all the details of Schaeffer's analysis here.
Steel Stocks
The XME ETF has done well in the last 12 months... up over 60%. It pulled back recently after hitting a high of 35.21 to just above 30. However, seasonally, XME has averaged 3.3% and 5.8% gains in the months of March and April (since inception). Now could be a good time for an ATM covered call on AKS or X (or XME itself). See Schaeffer's opinion here.
Covered Calls On Gold And Steel Stocks
If we plug the gold and steel stocks mentioned into the screener, we find several offering more than 20% annualized return for the March 17 expiration: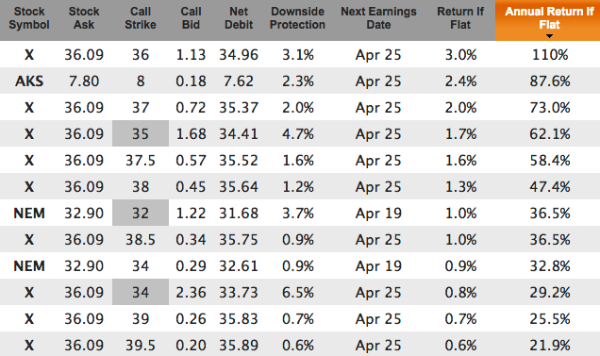 And if we go out to the Apr 21 expiration date, there are several more opportunities, including the 33-strike on X which has 11% downside protection with an annualized return over 26%: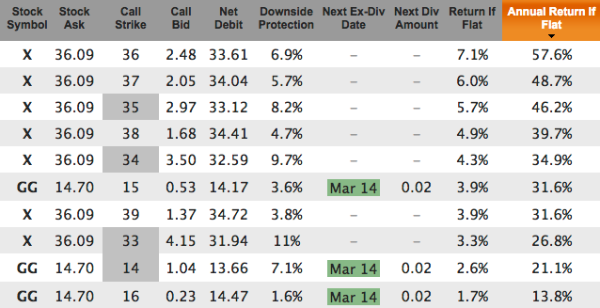 Income From Metal Stocks (Webinar)
Using covered calls on metal stocks is a good way to make a non-income producing asset start paying an income. Plus you have the advantage that by buying physical metal (via an ETF) you have some upside and a bit of an inflation hedge (assuming you're writing out-of-the-money covered calls). The people at Gold And Silver For Life have been successfully doing this for years, and have a free webinar that explains how they do it. Check it out.
Mike Scanlin is the founder of Born To Sell and has been writing covered calls for a long time.