The price of gold will rise to a record of $1,450 a troy ounce in the next year, driven by a loss of faith in central banks' ability to prop up the global economy.

Source: London Bullion Market Association conference in Berlin, Sep 28, 2010
The prediction was made yesterday by bankers, producers and analysts attending the biggest gathering of the gold industry. If correct, it would mean an increase of nearly 11 per cent on Tuesday's record price of $1,307 an ounce, triggering big profits for the world's largest gold miners, such as Barrick Gold, Newmont Mining and AngloGold Ashanti. The LBMA poll has proven an accurate forecast over the past few years even if the presence of miners and bullion investors skews the poll.
Gold is a solid asset (pun intended) and every portfolio should have at least some exposure to it for diversification and as a hedge against inflation.
But one drawback is that it doesn't pay cash dividends. However, by using covered calls you can generate monthly income from gold, too. Buy a gold ETF and write calls (at-the-money if you're neutral on gold or out-of-the-money if you're bullish on gold).
Gold ETFs
Symbol
Name
Description
GLD
SPDR Gold Shares ETF
most commonly traded gold ETF
IAU
iShares COMEX Gold Trust
backed by physical gold bullion
DGL
PowerShares DB Gold Fund
holds futures contracts in gold
UGL
ProShares Ultra Gold
leveraged security that seeks to replicate twice the performance of gold bullion
Here are some at-the-money gold buy-writes (buy the gold ETF and write an option) you can do right now:
Symbol
ETF
Price
Trade
Annualized
Return If Flat (If Called)
GLD
127.98
Sell Oct 128. Net debit 126.31
27.9%
IAU
12.81
Sell Oct 13. Net debit 12.78
8.6% (36.5%)
DGL
46.45
Sell Oct 46. Net debit 45.68
15.0%
UGL
61.20
Sell Oct 61. Net debit 59.60
49.4%
From that set, GLD is the most liquid gold ETF and probably the best bet for covered call trading. UGL is 2x leveraged and therefore quite volatile, and DGL has very small open interest.
GLD - Gold ETF - stock price from Jul-Sep 2010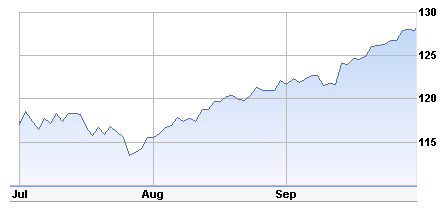 Mike Scanlin is the founder of Born To Sell and has been writing covered calls for a long time.