Not everyone wants to buy more TSLA or Bitcoin every day. Sure, it's fun if you're long and it's having a parabolic runup, but not so fun when the bubble bursts and your un-replenishable retirement account takes a big hit. For a calmer experience, let's look at covered calls on KO.
Reasons Why To Invest Coca-Cola
If you're looking for quality, it's going to be hard to find a better stock than KO. Several reasons why they are considered high quality:
The #1 highest non-tech brand in the world, and 6th overall (see Best Global Brands)
One of the 30 stocks making up the Dow Jones Industrial Average
3.2% dividend
57 consecutive years of dividend growth
Stable investor base (Berkshire (Buffet) owns around 10%)
Something To Consider Before You Invest In Coca-Cola
Last week several analysts lowered their 12-month price targets on KO because of a potential adverse tax issue. This could cost them $0, or $3B or maybe $10B. See the Barron's article for more info on that.
Covid isn't helping. Coke is losing sales from the lack of large sporting events and restaurant dining. But that revenue is not gone forever; it will come back once restaurants re-open and large events start taking place again.
Consistent Growth
Coke is a stable company. Looking over the last 35 years, there have been some dips but the long-term trend is intact, with a 35x increase from 1.46 in 1985 to today's 51.08: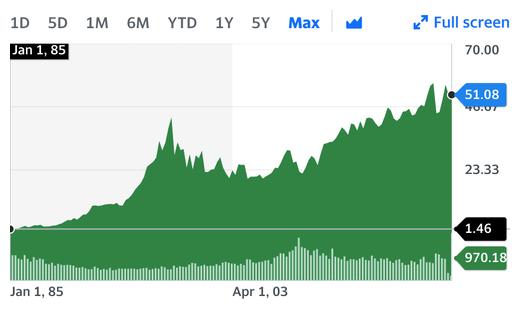 But if we look at the last 30 days you can see the effect of the recent downgrades caused mostly by the potential tax issue: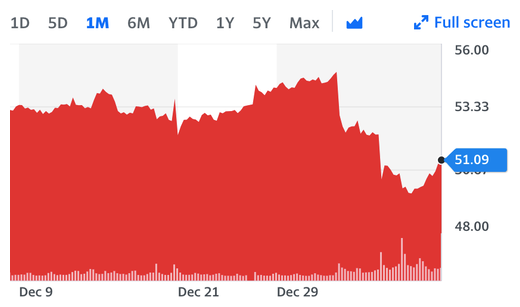 This is a nice looking chart if you are a buy-the-dips kind of investor. Would have been nice to get in at 49.70 a couple days ago but it's still not too late.
Dividends On Coca-Cola
The current dividend is 41 cents per quarter, which at 1.64 per year works out to 3.2% yield. The company has a history of increasing the dividend in March, so it's possible this March's dividend will be 42 cents or higher.
Covered Calls On Coca-Cola
The next earnings date is Jan 21 and will be released before the market opens. That's in 12 days. You can decide if you want to take advantage of the dip now or, wait until after earnings. There are arguments both ways and each investor should decide which risk/reward is right for them.
Assuming you're ready to go now, you can earn 27% annualized return with an in-the-money weekly for next Friday, Jan 15 (50.5-strike). Or, if you want to leave some upside potential you can get an 18% annualized return from the 52-strike for next week:

If you'd like to go a bit further out and cover the earnings release, you can earn 14.6% with an in-the-money 50-strike, or 17% with an out-of-the-money 52-strike for Jan 22:

Coke is a good core holding for any conservative covered call portfolio. 3.2% yield from the dividends, a stable stock price, and a chance to earn double-digits per year from call premium by writing slightly ITM or OTM options, depending on your preference. The recent dip might make a good opportunity to see if KO is right for your portfolio.
Mike Scanlin is the founder of Born To Sell and has been writing covered calls for a long time.