Anthony Mirhaydari of InvestorPlace noted in a recent article that on Monday, the DJIA popped up and over two-month resistance near 16,500 and was challenging its 50-day moving average for the first time since December. Since last Friday, Jason Goepfert at SentimenTrader notes that S&P 500 put in three days where it never traded within 0.5% of the prior day's close. That kind of buying pressure hasn't been seen in nearly 35 years of market history.
In anticipation of a breakout above the 50-day moving average, here are 10 stocks worth buying, according to Anthony: DD, AAPL, PFE, CX, UTX, FCX, GE, X, QCOM, and DIS. You can read his article as to why he likes each of those stocks.
Weekly Covered Calls For Mar 4
If we plug those 10 stocks into Born To Sell's screener and look for weekly covered calls for the Mar 4 expiration, we find several offering 36% annualized returns (3%/month) for a 7 day trade. Also, there is no earnings risk before Mar 4: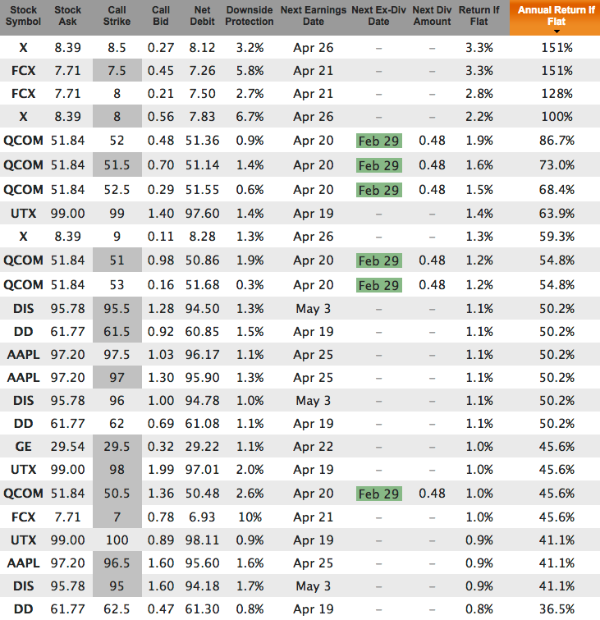 Weekly Covered Calls For Mar 18
If you prefer a 3-week trade, there are several covered calls offering 24% annualized returns (2%/month) or greater, and again without earnings risk before expiration: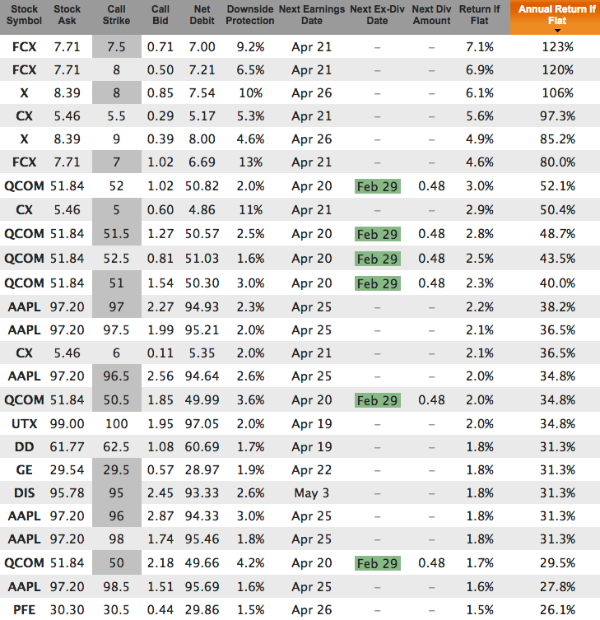 Weekly Covered Calls For Apr 15 Tax Day
If you'd like to earn some income between today and tax day, there are several choices from Anthony's list yielding 15% or more in annualized return for covered calls between now and Apr 15 expiration: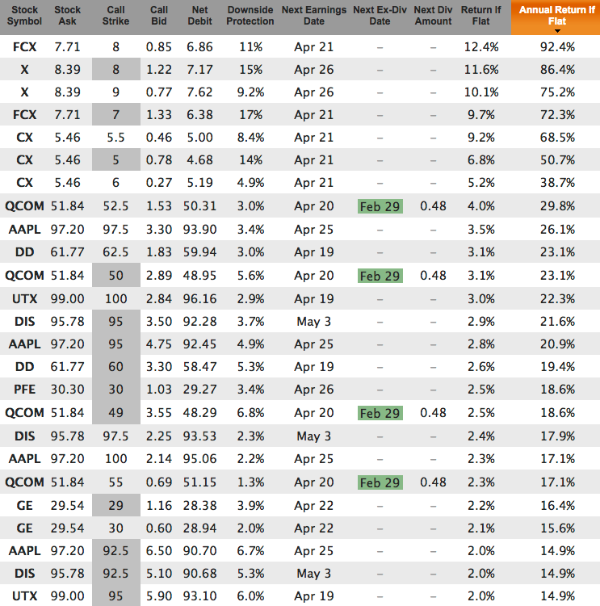 Note: These are not trade recommendations. They are candidate stocks from Anthony Mirhaydari. Do your own research, keep position sizes modest, and stay diversified.
Mike Scanlin is the founder of Born To Sell and has been writing covered calls for a long time.