Were you ever frustrated that to do a covered call on APPL required $50K or more, because you have to own 100 shares in order to sell a covered call? Well, starting on March 18, 2013, you can make that same trade for 1/10th the capital outlay.
New Mini Options To The Rescue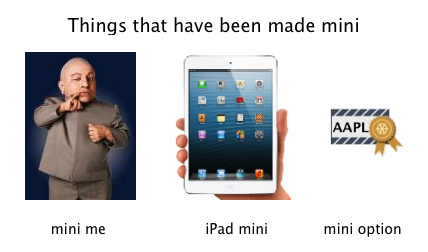 Mini Options Are Coming are the same as regular 100-share options except they control 10 shares instead of 100. However, they are not available on all symbols. Initially, only 5 symbols: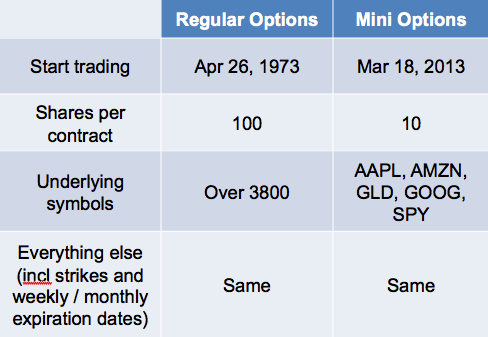 So, if you want to do a covered call on a $500 stock you no longer have to invest $50,000 to buy 100 shares. Instead, you can invest $5,000 for 10 shares and write 1 mini call option against it.
The rules for which symbols have minis available are still being looked at by the SEC, but the applications by the exchanges contain general guidelines of (1) previous 3 month option volume of 10,000 contracts, and (2) share price of the underlying at least $150.
That means we may see things like PCLN and ISRG trade minis eventually, but not on mini's first day (March 18). There are currently 22 stocks in the S&P 500 that have a share price over $150: AAPL, AMZN, AZO, BIIB, BLK, CF, CMG, CRM, FLS, GOOG, GWW, IBM, ISRG, MA, NFLX, PCLN, PCP, PSA, RL, SHW, SPG, V.
Considering that odd lots (ie trades of less than 100 shares) in high priced stocks like AAPL account for over 3/4ths of all executed trades, expectations are high for decent volume in these new mini contracts.
Mike Scanlin is the founder of Born To Sell and has been writing covered calls for a long time.