The Institute For Global Asset And Risk Management (INGARM) released a new study today called Performance Analysis of Options-Based Equity Mutual Funds, CEFs, and ETFs. Two PhDs, Keith Black and Edward Szado, studied 119 mutual funds that use options and analyzed their risk-adjusted performance. Some have used options since 1988.
Growth In Number Of Mutual Funds That Use Options
The number of Options-Based Funds grew from 10 in 2000 to 119 in 2014: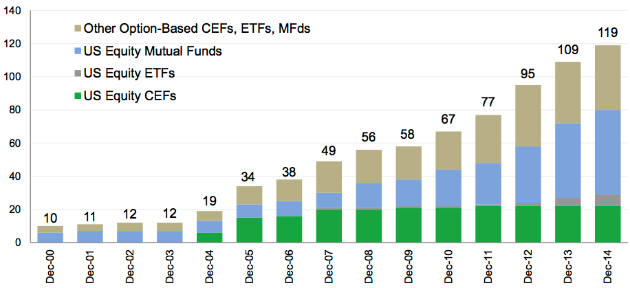 Key Findings For Options-Based Funds
The study performed an analysis of the equal-weighted performance of 80 Options-Based Funds that focus on use of U.S. stock index options and/or equity options during the 15-year period from 2000 through 2014, and had two key findings:
(1) Higher risk-adjusted returns. The Options-Based Funds had similar returns as the S&P 500 Index with lower volatility and lower maximum drawdowns. Said another way, the Options-Based Funds had higher risk-adjusted returns, as measured by the Sharpe Ratio, Sortino Ratio, and Stutzer Index. In addition, using the S&P 500 as a base, the Options-Based Funds and the CBOE BuyWrite Index BXM had better risk-adjusted returns using 3 measures: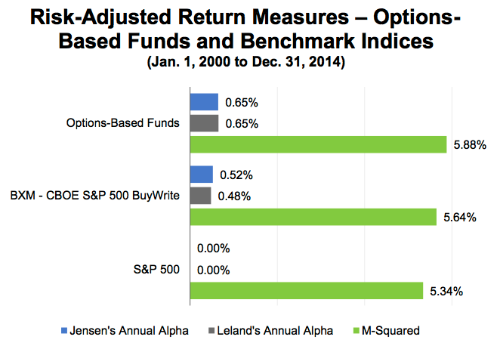 (2) Strong performance for benchmarks that use SPX index options. From mid-1988 to the end of 2014, the CBOE S&P 500 2% OTM BuyWrite Index had higher returns and lower volatility than the S&P 500 Index. Here are the standard deviations, where a smaller number is better (less volatility):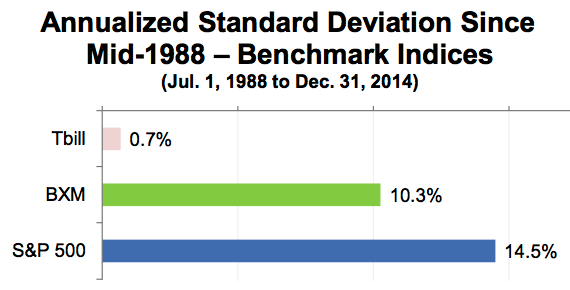 Download The Study
To see more data, download the 30-page study as a PDF file: Performance Analysis of Options-Based Equity Mutual Funds, CEFs, and ETFs.
List Of Closed End Funds (CEFs) That Use Options
| CEF | Symbol |
| --- | --- |
| AllianzGI NFJ Dividend Interest & Premium Common | NFJ |
| BlackRock Enhanced Capital & Income Common | CII |
| BlackRock Enhanced Equity Dividend Common | BDJ |
| Columbia Seligman Premium Technology | STK |
| Eaton Vance Enhanced Equity Income Common | EOI |
| Eaton Vance Enhanced Equity Income II Common | EOS |
| Eaton Vance Risk-Managed Diversified Equity Income Common | ETJ |
| Eaton Vance Tax-Managed Buy-Write Income Common | ETB |
| Eaton Vance Tax-Managed Buy-Write Opportunities Common | ETV |
| Eaton Vance Tax-Managed Dividend Equity Income Common | ETY |
| First Trust Enhanced Equity Income Common | FFA |
| Guggenheim Enhanced Equity Income Common | GPM |
| Guggenheim Enhanced Equity Strategy Common | GGE |
| Guggenheim EW Enhanced Equity Common | GEQ |
| Madison Covered Call & Equity Strategy | MCN |
| Madison Strategic Sector Premium Common | MSP |
| Nuveen Core Equity Alpha Common | JCE |
| Nuveen Dow 30 Dynamic Overwrite | DIAX |
| Nuveen NASDAQ 100 Dynamic Overwrite | QQQX |
| Nuveen S&P 500 Buy-Write Income | BXMX |
| Nuveen S&P 500 Dynamic Overwrite | SPXX |
| Nuveen Tax-Advantaged Dividend Growth Common | JTD |
List Of Exchange Traded Funds (ETFs) That Use Options
| ETF | Symbol |
| --- | --- |
| First Trust High Income ETF | FTHI |
| First Trust Low Beta Income ETF | FTLB |
| Horizons S&P 500 Covered Call ETF | HSPX |
| Horizons US Equity Managed Risk ETF | HUS.U |
| PowerShares S&P 500 Buy-Write ETF | PBP |
| Recon Capital NASDAQ 100 Covered Call ETF | QYLD |
| US Equity High Volatility Put Write ETF | HVPW |
List Of Mutual Funds That Use Options
| Mutual Fund | Symbol |
| --- | --- |
| Alliance Bernstein/TWM Global Equity & Covered Call Strategy Fund | TWMLX |
| AllianzGI Structured Return A-Class | AZIAX |
| AllianzGI US Equity-Hedged - Institutional | AZUIX |
| AMG FQ US Equity - Institutional | MEQFX |
| Arin Large Cap Theta - Institutional | AVOLX |
| ASTON/Anchor Capital Enhanced Equity - Institutional | AMDSX |
| BPV Low Volatility | BPVLX |
| BPV Wealth Preservation Advisor | BPAPX |
| Bridgeway Managed Volatility | BRBPX |
| Camelot Excalibur Small Cap Income - Class A | CEXAX |
| Camelot Premium Return - Class A | CPRFX |
| Catalyst/Lyons Hedged Premium Return - A | CLPAX |
| Catalyst/MAP Global Capital Appreciation - A | CAXAX |
| Catalyst/SMH Total Return Income - Class A | TRIFX |
| Centaur Total Return | TILDX |
| Covered Bridge - Class A | TCBAX |
| Credit Suisse Volaris US Strategies - Class A | VAEAX |
| Crow Point Defined Risk Global Equity Income - Class A | CGHAX |
| Dividend Plus Income Fund - Institutional | MAIPX |
| Dunham Monthly Distribution Fund - Class A | DAMDX |
| Eaton Vance Hedged Stock - Institutional | EROIX |
| Frost Cinque Large Cap Buy-Write Equity - A | FCAWX |
| Gateway - Class A | GATEX |
| Gateway Equity Call Premium - Class A | GCPAX |
| Glenmede Secured Options | GTSOX |
| GMO Risk Premium - Class III | GMRPX |
| Hatteras Disciplined Opportunity - Institutional | HDOIX |
| Hussman Strategic Growth | HSGFX |
| ICON Risk-Managed Balanced - Class A | IOCAX |
| Investment Partners Opportunities - Class A | IPOFX |
| Iron Horse - Class A | IRHAX |
| Ironclad Managed Risk | IRONX |
| JHancock Redwood - Class A | JTRAX |
| KF Griffin Blue Chip Covered Call - Class A | KFGAX |
| Kinetics Multi-Disciplinary Advisor - Class A | KMDAX |
| KKM ARMOR A | RMRAX |
| KKM US Equity ARMOR A | UMRAX |
| Leigh Baldwin Total Return | LEBOX |
| LS Theta - Institutional | LQTIX |
| Madison Covered Call & Equity Income - Class A | MENAX |
| MD Sass Equity Income Plus Fund - Institutional | MDEIX |
| RiverNorth Managed Volatility - Class R | RNBWX |
| RiverPark Structural Alpha - Institutional | RSAIX |
| RiverPark/Gargoyle Hedged Value - Institutional | RGHIX |
| Russell Strategic Call Overwriting - Class S | ROWSX |
| Schooner - Class A | SCNAX |
| Swan Defined Risk - Class I | SDRIX |
| Touchstone Dynamic Equity - Class Y | TDEYX |
| Virtus Low Volatility Equity - Class A | VLVAX |
| WP Large Cap Income Plus - Institutional | WPLCX |
| YCG Enhanced | YCGEX |