Barron's has published stock broker reviews for 18 years. Each year they offer up their ratings and reviews of top brokers, awarding up to 5 stars in 8 different categories.
2013 Online Stock Broker Review Results
Because investor needs are diverse, Barron's chooses leaders in several categories: best for frequent traders, long-term investing, in-person service, novices, international traders, and options traders.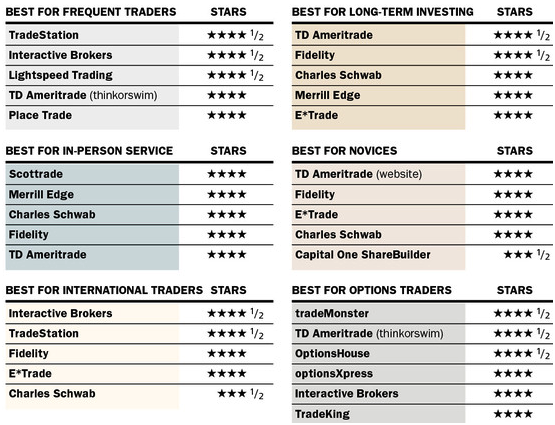 For low-cost brokers, the winners are in 2 categories: occasional traders and frequent traders.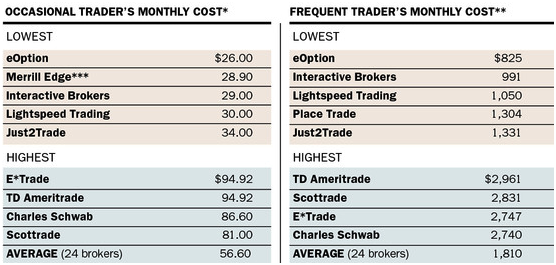 Barron's defines "occasional" as 6 stock trades and 2 option trades per month, and "frequent" as 100 stock trades, 100 option trades, and $30K of margin debt per month.
Overall Stock Broker Winner For 2013
Barron's chose InteractiveBrokers as their overall winner for 2013 (who also won in 2012). They credit IB's trading technology, portfolio analysis, and educational offerings as top reasons. However, they point out that IB caters to hedge funds and very active traders, so may not be the best choice for the casual buy-and-hold investor. Like most full-featured platforms, their tools take some time to learn.
Second place finisher is TradeMonster which Barron's says has very flexible web-based and mobile applications, although aimed mostly at option traders.
Rounding out the top 3 is Place Trade which is built on top of the InteractiveBrokers technology but offers more personal assistance and full-service brokerage advice for those who want a high-touch experience combined with IB's low commissions and quick/good fills.
You can read the full report on Barron's site or compare brokers at StockBrokers.com Annual Broker Comparison.
Mike Scanlin is the founder of Born To Sell and has been writing covered calls for a long time.