Small-cap stocks (those with market caps of $3B or less) continue to put some distance between themselves and their large cap brethren. Though the Dow Jones Industrial Average and the S&P 500 ended Monday's trading in the red on lingering fears of a trade war, the Russell 2000 Small Cap Index mustered a gain.
According to James Brumley, "it's likely that small-cap stocks are outpacing large cap alternatives specifically because they're better shielded from an international trade war."
In addition to James' reasoning, there is at least one other reason to consider small cap stocks for your covered call portfolio: diversification. In addition to diversifying across industry sectors, you may want to diversify across market caps, too. More dimensions to your diversification plan leads to more diversification overall.
7 Small-Cap Stocks to Consider
The 7 small cap stocks that James chose as 2nd half of 2018 candidates are:
| Name | Symbol | P/E | Market Cap |
| --- | --- | --- | --- |
| American Outdoor Brands | AOBC | 18 | 721M |
| Codexis | CDXS | - | 870M |
| OraSure Technologies | OSUR | 65 | 1.1B |
| Prestige Brands Holdings | PBH | 6 | 2.0B |
| Sunrun | RUN | 12 | 1.5B |
| TTM Technologies | TTMI | 18 | 2.0B |
| USANA Health Sciences | USNA | 42 | 2.9B |
There are some definite pros and cons to the names James has chosen. You can read his article for his reasons why each of these is on this list.
Small Cap Covered Calls
There is at least one more reason to consider these names for part of your portfolio: All of them have covered calls available that pay 15% or more annualized return if flat (ARIF) for the July 20 expiration: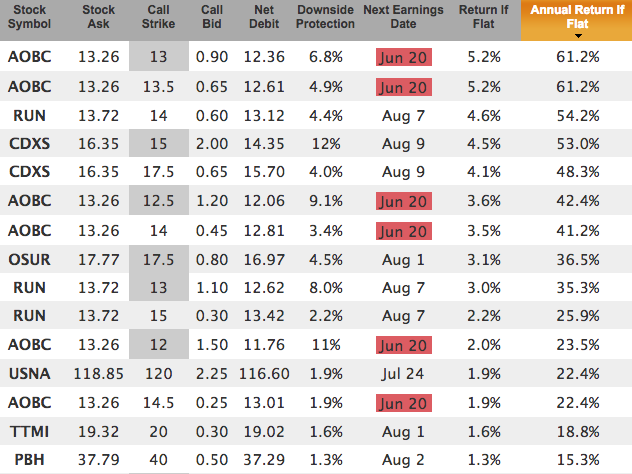 Some of those have nice Downside Protection (like the RUN 13 strike, or the CDXS 15 strike), but one other (AOBC) has earnings risk, which might be a reason to avoid it until after earnings have come out.
Going Out To The August Expiration
If we go out one more month, to the Aug 17 expiration, we find good ARIF but all have earnings risk: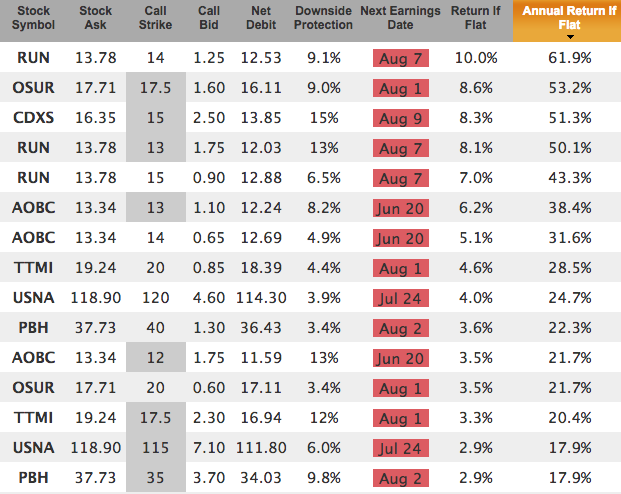 More downside protection (good), but more risk due to earnings (bad, unless you fundamentally like the stock and want to hold it for medium term or longer).
Recap of Small Cap Investing
Investing for a 6 month period (2nd half of 2018) requires more research than writing an in-the-money weekly covered call. There will be at least 2 earnings releases for each company over the 6 month period. Don't take James' word for it that these are the companies for you. Do your own research, keep your position sizes reasonable, and make sure they are appropriate for your personal risk/reward profile.