Barron's has published stock broker reviews for the last 16 years. Every year they offer up their ratings and reviews of top brokers, awarding up to 5 stars in 8 different categories.
2011 Stock Broker Review Results
Because investor needs are diverse, Barron's chooses leaders in 4 categories: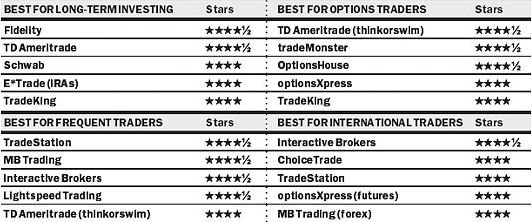 For low-cost brokers, the winners are in 2 categories:

Barron's defines "occasional" as 6 stock trades and 2 option trades per month, and "frequent" as 100 stock trades, 100 option trades, and $30K of margin debt per month.
Overall Stock Broker Winner For 2011
Barron's chose TradeStation as their overall winner for 2011 but points out that it's not a platform for the feint of heart, nor for the occasional trader. You have to pay $99/month if you trade less than 5000 shares of stock or 50 option contracts per month. It allows for full development of your own trading system, including backtesting.
2nd place finisher is MB Trading which Barron's says has good customer support, an excellent order management system, good charting, and a platform that appeals to beginners and experts alike.
Rounding out the top 3 is Interactive Brokers which is well known for low-cost executions and not-so-easy-to-use software (but once you get the hang of it you'll probably enjoy it). Low commissions doesn't mean poor fills, either. The Transaction Auditing Group, an independent firm that measures execution quality, found that IB's execution engine brought customers quite a bit of price improvement. Barron's also notes that IB's margin rates are the lowest of the group, for investors who trade on margin.
If you want ease of use, the highest rated broker is TradeKing (4.5 stars) followed by OptionsHouse, tradeMonster, OptionsXpress, and SogoTrade (tied with 4.4 stars each). You can read the full report on Barron's site or compare brokers at StockBrokers.com Annual Broker Comparison.
Mike Scanlin is the founder of Born To Sell and has been writing covered calls for a long time.