Today we bring you something different. It's not about covered calls.
Challenge: Turn $3K into $100K in 4 months by trading options
The web site TraderMinute.com holds a 4-month challenge every 4 months to try and turn $3K into $100K by buying and selling puts and calls. They've succeeded twice in 11 tries, with an average gain of $27K.
Profit from last 11 challenges, starting with $3K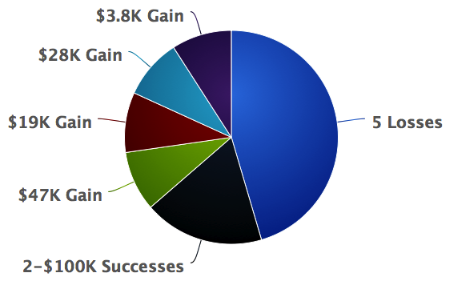 That's a total profit of $298K, or an average profit of $27K per $3K invested.
To be clear, this is not conservative investing and has nothing to do with covered calls. It's very aggressive to try and turn $3K into $100K in 4 months, and it should only be attempted by people who are willing to lose the entire $3K (after all, in 5 of the 11 attempts they lost money).
However, IF you are the agressive type and willing risk $3K, then these guys have a great track record (average win of $27K in 11 attempts).
Born To Sell has arranged a special offer for you: 1 month free trial

You can participate (or just paper trade) along with TraderMinute.com FREE for 1 month. Go to TraderMinute.com free month trial, and complete the form to get your free month).
Your entire first month is free, with no obligation to subscribe if you don't want to.
Rules Of the $100K Challenge
start trading account with $3K
no margin trading
after account is $10K, remove initial $3K
after account is $40K, remove $10K profit
challenge ends after 4 months, balance at that time is profit
The strategy involves buying and selling puts and calls long (2-3 trades per week, with average holding of 5-7 days). Once you sign up you will be notified instantly of any entry or exit trades via email and text.
TraderMinute.com Service
TraderMinute.com is a group of highly experienced option traders who run a Live Trade Seat subscription service that allows you to observe them trading via live video, and communicate with them during market hours. It's a great way to learn from real pros.
After the 1-month free trial, if you choose to continue, their service is $599/month. Since it's a 4-month challenge it could cost you $1800 (first month is free) in addition to the $3K you have to risk in the trading account. Remember, after 11 challenges the expected value of a challenge is $27K.
To get your free month, visit TraderMinute.com free month trial and sign up.
Their latest challenge started Monday of this week, so it's not too late to get in on the current challenge. As of today (Thursday, Mar 27, after the close) they are up over $400. Since it's free, why not sign up and watch them trade and ask them questions (or if you want to be more passive, just sit back and receive their trade alerts) for a month and see how they do?
---
July 20, 2014, Update: The challenge started March 10 with $3K finished in late July at $49,669, for a $46,669 profit. Nice return for a 4-month challenge!
Mike Scanlin is the founder of Born To Sell and has been writing covered calls for a long time.