This is a continuation of a covered call trade we started on December 5, 2012, on AAPL.

We've had 7 sets of weekly calls expire out of the money on our AAPL position. On Jan 29, with the stock at 458 and our most recent options expiring out of the money, we decided to wait for a bit of a recovery before selling additional calls.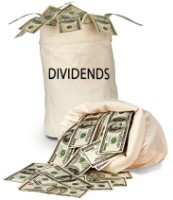 Today AAPL went ex-div and closed at 468.22, rising over 13 on news that it will consider issuing preferred stock. We believe it is time to sell covered calls on our position that will expire next Friday, the 15th.
Before today's dividend, our adjusted cost basis was 473.27 (if you started with 535s on Dec 5) or 487.27 (if you started with 540s on Dec 5). See Jan 29 blog for how we got here. After today's $2.65 dividend, our adjusted basis is 470.62 or 484.62.
Selling Above Water Strikes
We want to write strikes tomorrow morning above our current adjusted basis that will give us a decent annualized return if called, considering that it will have been 72 days in this trade if we are called out on Feb 15, and that the stock has fallen significantly during that time. With that in mind we are suggesting the 490 strike for those who started at 535s, and the 500 strike for those who started with the 540s:
Dec 5
Starting Strike
Feb 8
New Strike
To Sell
Call Bid
Adjusted
Net Debit
Annualized
Return for
72 day trade
535
490
2.10
468.52
23%
540
500
1.08
483.54
17%
If AAPL closes above those strikes on Feb 15 then you will have received the annualized returns shown over the duration of the trade. We're not getting much premium this week but we did get that 2.65 dividend, and a 17% to 23% annualized return would be considered a nice win for stock that got called away at a price 10% below what we paid for it 72 days ago (should it be called). If it's not called we will probably sell another weekly option on Feb 18.
Mike Scanlin is the founder of Born To Sell and has been writing covered calls for a long time.