Apple is a relatively safe investment for covered call investors. Here are some reasons:
2.5% dividend
$147B of cash (10% of all corporate cash in the US)
P/E of 12 (even lower if you take out the cash)
margins high because of strong demand for iPhone 5
potential deal with China Mobile, who has 700 million users
revenue upside when new products hit (new iPad, iTV)
activist investors are pushing for $150B buy-back
The Macro Could Hurt
One of the things that can hurt Apple near term, and this is a real risk, is a macro event like a lengthy government shutdown, a failure to raise the debt ceiling, or perhaps a war in the middle east. Short of some macro economic event like that, we like AAPL buy-writes heading into the holiday period.
Recent History
In the last year AAPL has been as high as $674 and as low as $385, which means it's currently about $100 off it's low, and $186 off it's 12-month high:
AAPL Stock Price Last 12 Months


October Covered Calls On APPL
AAPL closed at 487.96 today. The next earnings release is Oct 22 (after the close). There are 3 expiration dates available without earnings risk: Oct 4 (weekly), Oct 11 (weekly), and Oct 19 (monthly). Here is the covered call chain for the nearest-to-the-money strikes over those 3 expirations: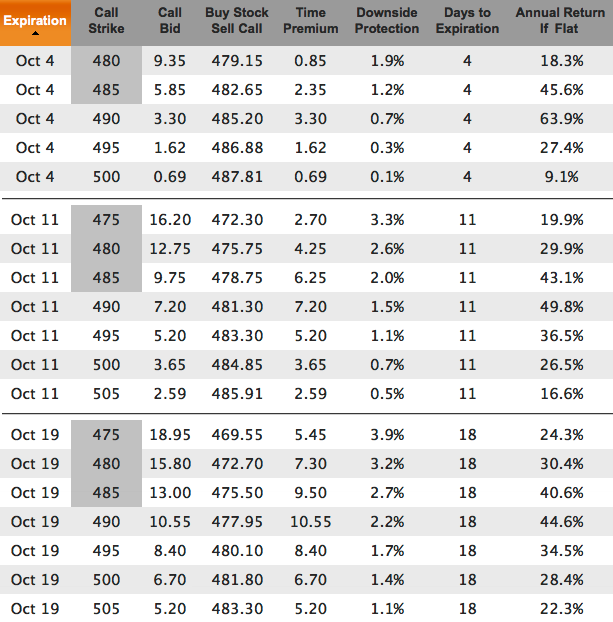 Conservative investors should look at the 475 or 480 strikes and earn 18% to 30% annualized return depending on the expiration date chosen. More aggressive investors could earn as high as 63.9% annualized return by choosing the slightly out of the money (490 strike) Oct 4 expiration.
From this list, and without trying to be too greedy, we'd suggest looking at the Oct 11 475 strike. If called you'll make 19.9% annualized, and if not called your basis will be 472.30 going into the next cycle.
The biggest risk is 11 days of exposure to political games in Washington. Since Oct 11 is prior to the anticipated debt ceiling limit being reached in mid-October, we feel that would be a good time to be called away to cash. The Oct 19 expiration is too close to (or possibly even after) the debt ceiling crisis date.
Mike Scanlin is the founder of Born To Sell and has been writing covered calls for a long time.