Apple is announcing new products on Sept 9 (two iPhones plus maybe something else unexpected). The stock typically runs up prior to such announcements, which means today makes good timing sense for a weekly trade expiring next Friday, Sept 5. By using an in-the-money covered call you will probably be called away next Friday, before the reaction to the news affects the stock (unless, of course, geo-political events bring the whole market down next week).
AAPL Could Go Either Way On September 9th, But You Don't Care
The news might be great, and you might miss a nice run. Or the news could disappoint high expectations and the stock could fall a bit. But as an income trader, why take the speculation risk? Just collect some premium next week without all the new product risk. (And if you do love AAPL long-term, no one says you have to cover all of your position...)
In-The-Money Weekly Trades On AAPL
Here is the covered call chain for AAPL with the Sept 5th weekly expiration: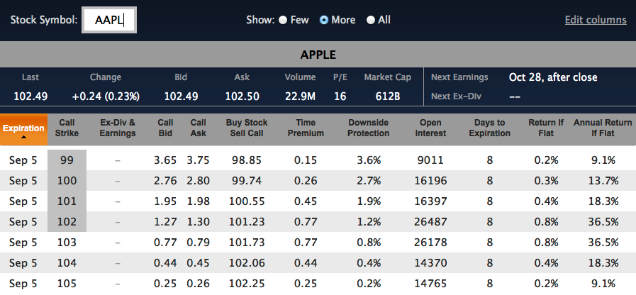 With AAPL currently trading at 102.49, it's right between two strikes. Bullish investors can earn 77 cents of time premium with either the 102 or 103 strikes. Both yield 36.5% if the stock remains flat. If the stock rises then the 103 strike will do better because it has 51 cents of upside potential in addition to the time premium.
More conservative investors will probably want to consider the 100 strike which carries a 13.7% annualized return if AAPL stays above 100 by next Friday (not a huge return, but pays better than interest on idle cash). There is only 26 cents of time premium, however, so if you trade at a broker that charges more than about $1 or so commission for a singe contract buy-write trade then you will need to do more that 100 shares so that the commissions don't eat up all of the profit potential. (And if you need a low-cost broker, we like InteractiveBrokers.com.)
Mike Scanlin is the founder of Born To Sell and has been writing covered calls for a long time.