This week there are 5 companies going ex-dividend before Friday's expiration. They are: FDX, GE, LVS, MJN, and TIF.
Using the dividend screener with the default settings we find these companies going ex-dividend tomorrow: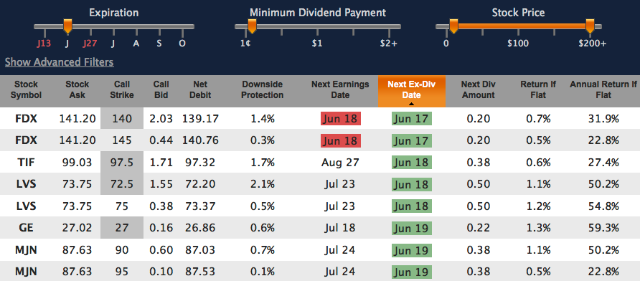 Half of those are in-the-money (the ones with darker grey in the Call Strike column), and all of them have an annualized yield (including the dividend) of more than 22% (far right column).
Note: These are not recommendations. These are merely all the options that have ex-dividend dates before this Friday's expiration. You would need to research each to see if it is appropriate for your portfolio.
Note, too, that FDX has an earnings date on June 18 (before market opens) so if you don't want earnings risk you'll want to sell the stock before the close on June 17, rather than hold it until expiration. You can still collect the 20 cent dividend by buying the stock before the close on June 16 (the day before the ex-div date) and then selling it June 17 (the day of ex-div date). Consider the spread and your transaction costs before doing this, of course.
Mike Scanlin is the founder of Born To Sell and has been writing covered calls for a long time.