Yahoo owns 22.4% of Alibaba (BABA), which goes public in 4 days and is oversubscribed. As a consequence, investors are driving up the price of YHOO call options as a way to get a piece of the Alibaba action. This, in turn, sets up some nice weekly returns for a more conservative way to play the hype.
What Will BABA Do This Friday?
No one knows, of course, but the underwriters are raising the IPO pricing this week, and they're not doing that because they think BABA will fall on the first day of trading. So it will probably remain flat or rise. Either case makes it unlikely that YHOO will fall. YHOO's market cap is around $42 billion, and their BABA holding is worth around $35 billion at the midpoint of the suggested IPO range.
Buy Or Sell YHOO Calls?
If you're a risk taker, you might prefer to buy some YHOO calls yourself. But they're pretty expensive right now because everyone wants to do that. A more conservative approach would be to sell these expensive calls to other people, and then protect yourself by making sure they're covered calls (and not naked calls).
Which YHOO Covered Call To Write?
At this moment they are all paying well, from in-the-money to out-of-the-money. Probably want to use the weeklys expiring this Friday, although you could layer in some weeklys expiring a week from Friday, too. With Yahoo at 42.42, here are the YHOO covered calls expiring on Friday: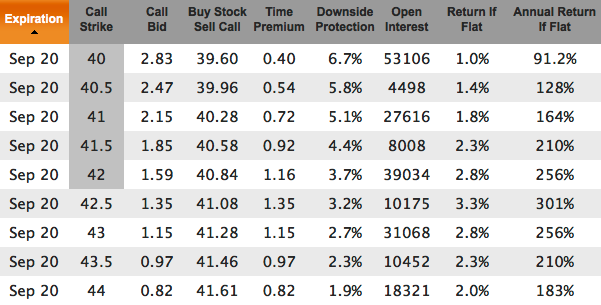 Here are the YHOO covered calls for the following week: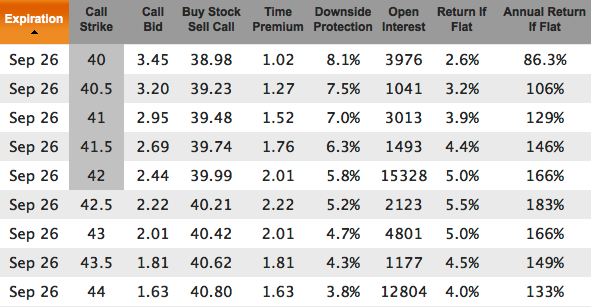 Next week's weeklys don't have as high of open interest, but they are still plenty high enough. Investors want these options. With annualized returns over 100%, a short-term buy-write to sell them some of these expensive calls might make sense. If BABA soars you may regret being a seller of calls instead of a buyer, but as a seller you could still make 1% to 5% in a week or two with only modest downside risk. As always, do your own homework and make sure the risk/reward is appropriate for your portfolio.
---
Sep 26, 2014: Post-expiration followup... YHOO closed at 40.93 Sep 19, making all of the in-the-money covered calls shown in the 1st set above profitable. Then, on Sep 26, YHOO closed at 40.66, resulting in 8 of the 9 covered calls above being profitable (i.e. they had a net debit of less than 40.66).
Mike Scanlin is the founder of Born To Sell and has been writing covered calls for a long time.