Born To Sell releases new iGoogle gadget to help investors find high yield covered calls, plus two free contest giveaways to help promote the new tool.
LOS ALTOS, Ca., May 21, 2012 – Born To Sell, LLC, the investment software company, today announced a free Google gadget that helps investors find high yield covered calls for any US traded stock symbol. Now anyone can screen for high covered call yields throughout the day by simply adding this gadget to their iGoogle home page.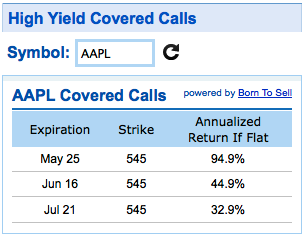 "Our gadget makes it easy to follow covered call yields on your favorite stocks. Because the prices update during market hours, just enter the symbol and wait until the annualized returns reach the level you are looking for. Then go to your broker and place the trade." says Mike Scanlin, Born To Sell's CEO.
To promote the new gadget, Born To Sell has two free giveaways:
(1) $25 iTunes Gift Card, or one of two covered call investment books: New Insights On Covered Call Writing or Options For Volatile Markets. Register to win!.
(2) $25 Starbucks Gift Card. Register by sending a tweet.
This new Google gadget and be found here and is a subset of the functionality available Born To Sell's main site where visitors will find a free covered call tutorial that shows how to generate recurring income with covered calls, as well as a free blog and covered call newsletter. Recent blog articles have discussed weekly trading of Apple covered calls, early exercise of options, and high frequency trading.
About Born To Sell
Established in 2009, Born To Sell is a software development company dedicated to making best-of-breed covered call investment tools for self-directed investors. Headquartered in Los Altos and privately funded, Born To Sell's subscription service helps income-oriented investors with trade selection and portfolio management. For more information, please visit https://www.borntosell.com.
Contact
Mike Scanlin, CEO
Born To Sell
(800) 434-6980
https://www.borntosell.com
###