Recently several articles have touted the best energy stocks to buy now. This includes Market Watch's If you're looking for value, take a look at energy stocks, Fortune's Chevron's Cheap-Oil Playbook, and InvestorPlace's 5 Energy Stocks That Are Powering Up. All this chatter about how the S&P's P/E ratio is historically high right now (19.6), and how oil is historically low ($50/barrel), got us thinking: How would we find good energy stocks using our screener?
How To Find The Best Energy Stocks
Let start by going to the General Search page and popping open the Advanced Filters:

We're going to make several changes to the default filters. We're going to set minimum P/E to 1 (because if you leave it a 0 you will get stocks that have no E (no earnings)) and a maximum of 15 (so we limit ourselves to stocks below the current S&P average of 19.6). And because not all of these are heavily traded we're going to set the minimum Open Interest to 0.3 (300 contracts):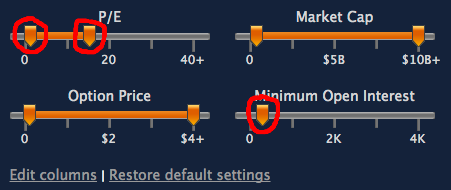 On the 2nd half of the Advanced Filters area we're going to check Only S&P 500 Stocks to remove any tiny companies that might be in the data, and we're going to uncheck every sector except Basic Materials: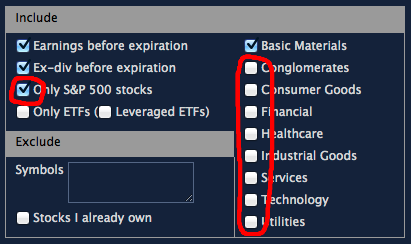 Lastly, we're going to click on Edit Columns to show the P/E column in the results table: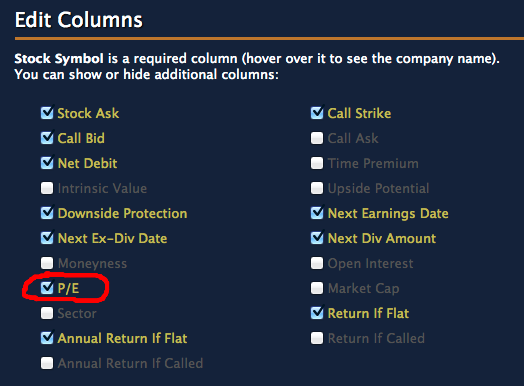 On the results table header, we want to click on P/E to sort results by that column:

Energy Stocks Sorted By P/E Ratio
The resulting table shows 20 energy stocks that have positive earnings and have a P/E ratio of 15 or less (click on a symbol to see a couple of current covered calls for that symbol):
This list of relatively cheap energy stocks (as measured by relatively low P/E) is a good place to start additional due diligence.
Covered Calls On Energy Stocks
Since oil is quite volatile right now (some analysts are predicting another 50% drop from where we are today, although the CEO of Chevron predicts otherwise in the Fortune article), a short-term, in-the-money covered call would be a conservative way to invest in these stocks.
Let's change the Moneyness filter to in-the-money only, and set the Expiration sider to the April 17 monthly expiration:

After having done that, we have 11 in-the-money covered calls with an annualized return of more than 2%/month for the April 17 expiration: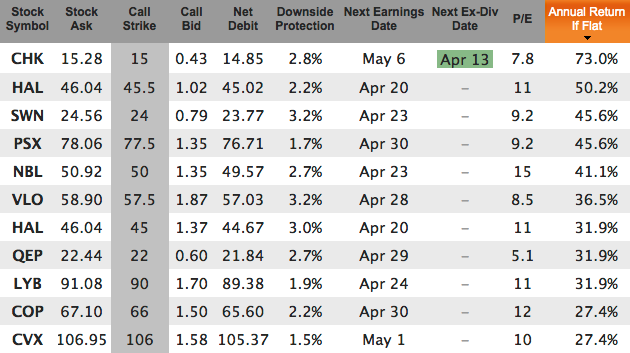 As always, these aren't recommendations and you shouldn't trade them blindly. There is a real risk that oil will fall more than it already has. However, most energy companies do survive these drops. As the CEO of Chevron said, he's seen 5 drops of 50% or more in the price of oil during his 35 years at the firm, and yet Chevron is still around. Keep your position sizes reasonable and stay diversified. Happy hunting.
Mike Scanlin is the founder of Born To Sell and has been writing covered calls for a long time.