For the last couple of years there have been many articles written about the FAANG stocks (FB, AMZN, AAPL, NFLX, GOOGL). Those tech titans have been good to own and good for writing covered calls (as long as you can stomach the volatility -- which, of course, is the source of their fat option premiums).
Recently, TheStreet held an Investor Boot Camp where they discussed 7 stocks that, in their opinion, may offer better opportunities for trading. They are referred to the Cloud Kings because they provide sophisticated cloud-based offerings, and/or are part of the growing global cloud infrastructure. They are: CRM, WDAY, NOW, SPLK, NEWR, VMW and ADBE.
TheStreet mentioned that these Cloud Kings may have more opportunity than FAANG if only because the media has become so obsessed with FAANG that they saturate our brains endlessly with 'FAANG is dead' stories on any day that they are down.
Although TheStreet still likes FAANG, they encourage investors to explore the Cloud King companies as well. Let's take a look at some covered calls in these two groups.
Covered calls on FAANG
The May 18 expiration offers quite a few FAANG covered calls that (1) don't have earnings before expiration, and (2) have an annualized return if flat of 24% or more (unfortunately for many investors, though, a couple of these (AMZN, GOOGL) require $100K+ to write 1 contract because of thier high share price):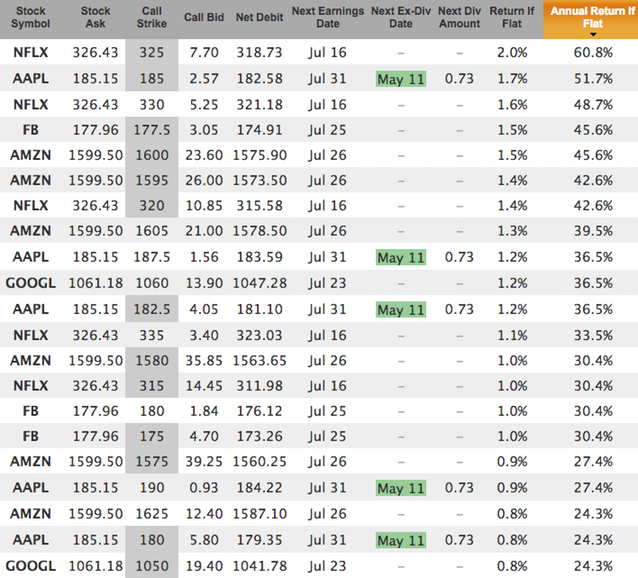 Covered calls on Cloud Kings
Looking at the same criteria for May 18 with Cloud Kings, we see that there are not as many covered calls that pay over 24% annualized, but there are some. Here are 6 of them along with a 5 others that pay less than 24% annualized but might be worth looking at as well: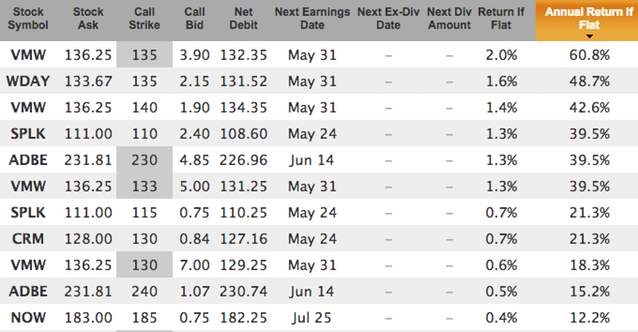 Both sets of stocks offer good retuns. But, like any good investor, and because everyone's situation is different, you shouldn't take TheStreet's word for it that these are the right stocks for you. Do your own research, stay diversified, keep your position sizes reasonable, and make sure these stocks are appropriate for your personal risk/reward profile.
Mike Scanlin is the founder of Born To Sell and has been writing covered calls for a long time.