Dividend Aristocrats are companies in the S&P500 who have raised their dividends for 25 years in a row or more. They are large, well-managed, blue-chip companies, valued for their relative stability.
These are the kinds of companies that often outperform during down markets, while keeping up with the overall market when it's rising. If we look at the aristocrats vs the S&P 500 since 2005, we see that even though they lost value in 2008, they lost considerably less than the market as a whole: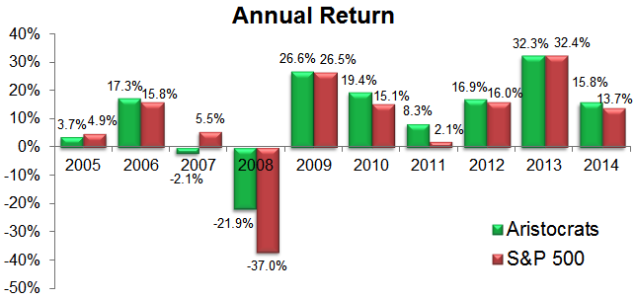 Best Of The Bunch - Top 10 Dividend Aristocrats
Brian Bollinger of TheStreet wrote about 10 Dividend Aristocrats To Buy Now where he chooses 10 aristocrats with an average dividend yield of 3% that he feels (1) have the strength to continue raising dividends and delivering income to their shareholders, and (2) operate strong and steady business models.
The companies in Brian's list are: ABBV, ABT, ADM, EMR, JNJ, PG, T, TGT, VFC, and WBA.
Weekly Covered Calls For Top 10 Dividend Aristocrats
If you take those 10 symbols and plug them into Born To Sell's Watchlist feature, you find several candidates for this Friday's covered calls that yield 18%/month or more on an annualized basis (we have removed any with earnings this week):
If you want to go out one more week to the Aug 5 expiration, you find several with annualized returns over 16% (and no earnings announcements):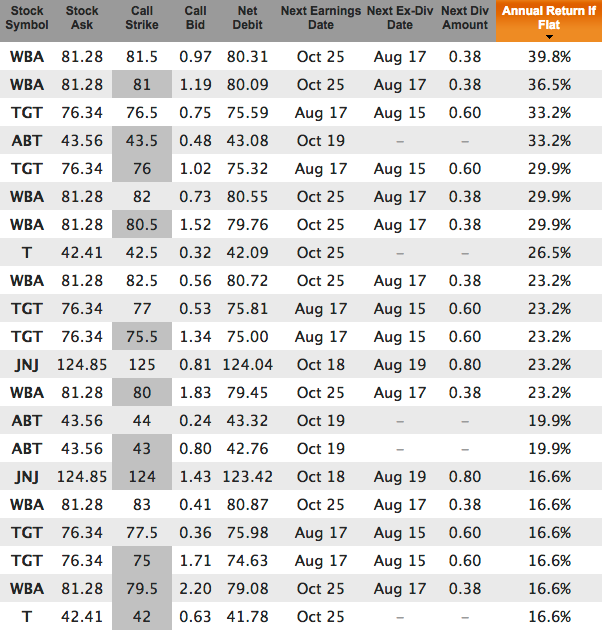 And if we go out to the Aug 19 expiration there are two, WBA and JNJ, that have ex-dividend dates prior to the expiration date (for those of you who like capturing dividends with your covered calls):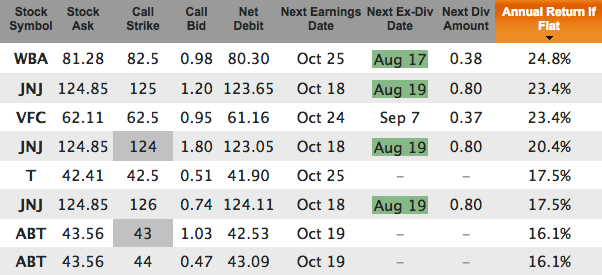 See Dividend Aristocrats - A Proven System for Earning Double-Digit Returns for more ideas about investing with Dividend Aristocrats.
Note: These are not trade recommendations. These are candidate trades chosen by Brian from the list of dividend aristocrats. Do your own research, keep position sizes modest, and stay diversified.
Mike Scanlin is the founder of Born To Sell and has been writing covered calls for a long time.