Writing covered calls on ETFs usually results in lower volatility than writing calls on individual stocks. That's because most ETFs are baskets of stocks which reduce single stock risk.
Screening ETFs Method #1: Bottoms Up
There are at least two strategies used when screening ETFs for covered calls. The first is to ask the question: "Show me all ETFs that are optionable and sort the returns by Annualized Return." This is easily done with Born To Sell's screener because of the "Only ETFs" checkbox under the Advanced Filters: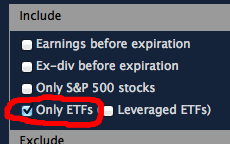 Just check it on and all 377 optionable ETFs will be searched, with the highest yielding covered calls sorting to the top (assuming you are sorting by Annualized Return, which is the default). For example, here are the current results for the August 17 expiration: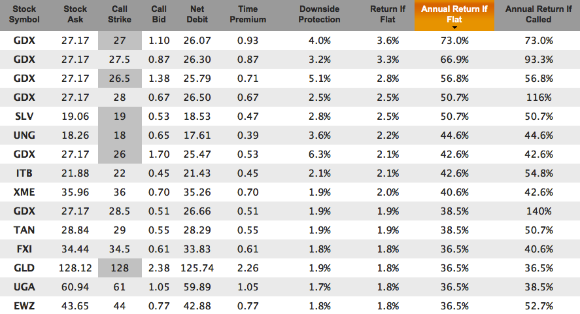 Screening ETFs Method #2: Top Down
Another way to screen for covered call ETFs is to start with an investment thesis along the lines of "I like Brazil right now" or "I like homebuilders" or some other segment where ETFs exist, and then find covered calls that match. But not all ETFs are optionable (meaning: call options are available), so how would you do this?
We have recently discovered an ETF screener that allows you to find optionable ETFs in any category: check out Optionable ETFs For Every Investment Objective by ETF Database.
Here are the ETF categories you can search on: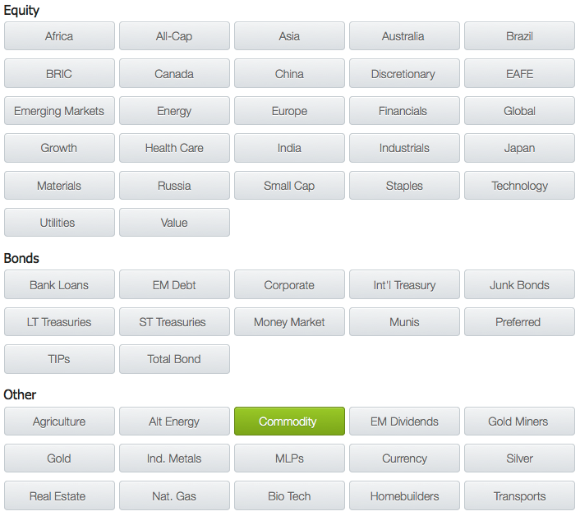 Just select an investment category, say Commodity, and their screener shows you all the optionable ETFs (along with total assets) in that category:
You can then take those 4 ETF symbols and enter them into Born To Sell's Watchlist feature: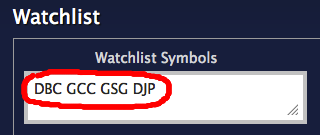 to find the returns these ETFs are offering. Here are a couple for the August 17 expiration yielding over 12% Annualized Return If Flat:

If you like covered calls on ETFs, we encourage you to explore ETF Database's screener (it's free). Then take the results and plug them into Born To Sell's Watchlist. Great combination of two tools.
Mike Scanlin is the founder of Born To Sell and has been writing covered calls for a long time.