Louis Navellier is a renowned growth investor. His article 7 Fast-Growing Stocks to Buy Today lists firms with solid sales earnings growth as well as technical and fundamental strengths that should keep the profits rolling. He believes these stocks will do well in today's environment, as central banks begin to slowly increase interest rates.
The 7 stocks Navellier chose are: KNX, KRO, LITE, RDS.A, SHW, VLO, and VRTX (you can read his article to find out his comments on each of those stocks).
Current Price and PE
| Name | Symbol | Ask Price | PE |
| --- | --- | --- | --- |
| Knight-Swift Transportation | KNX | 40.54 | 9.3 |
| Kronos Worldwide | KRO | 23.71 | 7.7 |
| Lumentum Holdings | LITE | 65.65 | 40.8 |
| Royal Dutch Shell | RDS.A | 72.30 | 23.2 |
| Sherwin-Williams | SHW | 384.59 | 20.1 |
| Valero Energy | VLO | 115.58 | 12.6 |
| Vertex Pharmaceuticals | VRTX | 157.16 | 151.3 |
For the past nearly 10 years, the Federal Reserve and central banks in all the industrialized nations have been managing interest rates to keep them outrageously low until the financial system had a chance to right itself.
Now, says Navellier, we're in the next phase of that great experiment. Economies are coming back online and central banks are starting to raise interest rates to keep inflation a bay while not shutting off the green shoots of growth.
Navellier believes these seven fast-growing stocks will keep you in good stead for years to come.
Add Covered Calls To These Fast Growing Stocks
Here are some May 25, 2018, expiration covered calls on these fast growers that all have annualized returns over 30%: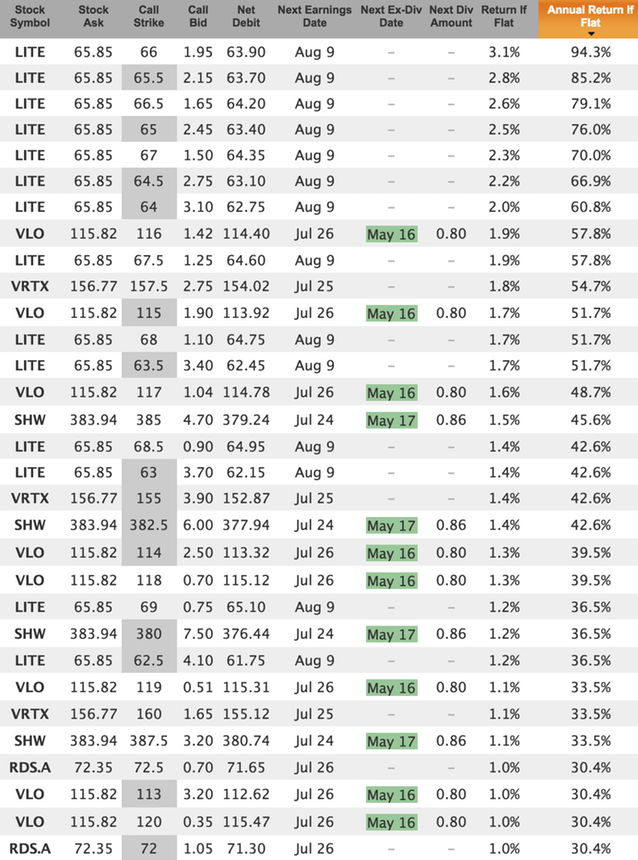 If we go out to the June 15 monthly expiration, there are fewer, but still several offering annualized returns over 19%: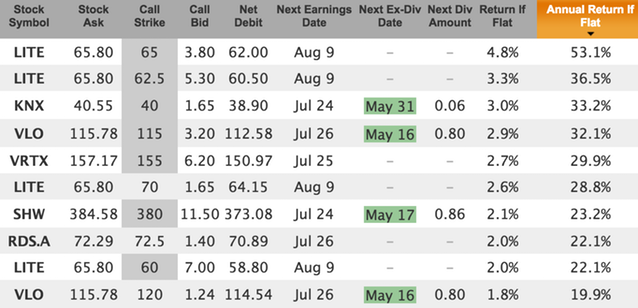 Fast Growth With Income
If you're going to invest in fast growth stocks, like every other strategy you want to make sure you are well diversified. And don't take Navellier's word for it that these are the right stocks for you. Do your own research, keep your position sizes reasonable, and make sure they are appropriate for your personal risk/reward profile.
Mike Scanlin is the founder of Born To Sell and has been writing covered calls for a long time.