Thanks to everyone who entered our Guess The Dow contest over the last couple of weeks. The goal is to come closest to the actual closing value of the DJIA on the weekly option expiration day of Apr 10, 2010.
The DJIA closed at 17749.31 on March 13, 2015, which was the last trading day before the contest closed to new entries (and shown with a red line on the chart below). Approximately 1/3rd of the guesses are below the red line, and 2/3rds are above the red line, showing bull to bear ratio of 2:1 between now and April 10.
Here's a histogram showing the number of guesses in 100 point ranges: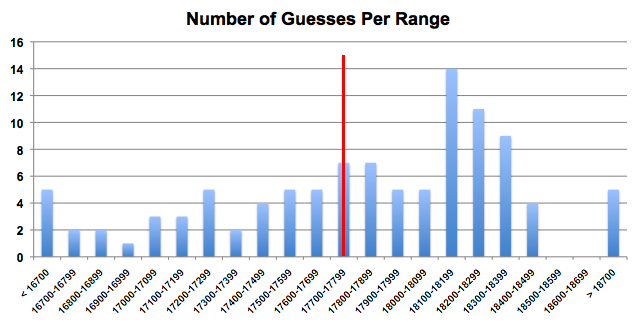 The average guess (after eliminating outliers below 12K and over 20K) was 17757.59, and the median value was 17901.00. Today, Mar 17 after the close, the DJIA is 17849.08.
Among the guesses were a few "run for the hills" pessimists (or else fat finger typists) coming in below 12,000; as well as some "going to the moon" optimists coming in over 20,000.
Winners will be determined at the close on April 10th, and will be announced shortly after that. Good luck everyone!
Mike Scanlin is the founder of Born To Sell and has been writing covered calls for a long time.