M&A has been on fire lately, with Q1 2015 being the highest first quarter in 8 years globally. In the US it's even better, being the largest M&A first quarter since the bubble of 2000. (see Fortune's M&A mania: Deal activity hits 8-year high)
All this activity got John Divine at InvestorPlace thinking about who could be the next target company to be bought. He came up with a Top 10 M&A Targets list for today's market.
Top 10 M&A Targets To Invest In Now
John's list of investable targets is:
John has good reasons for each of the names on this list and we encourage you to read his article to understand his rational. We're not going to repeat it here.
Investing In M&A Targets
Some investors would say that covered calls are a poor way to invest in M&A targets. After all, you're putting a cap on your upside and you may not get all that much downside protection. If an offer is made to acquire the target then it will likely be above your strike price, so you lose out on some of the acquisition premium. While if M&A rumors die down regarding a target, the stock may no longer be loved as an M&A candidate and fall.
However, what those investors fail to realize is that stocks can be on an industry's M&A list for y-e-a-r-s. How long have we heard that Apple should buy NetFlix? 8 years? More? Those rumors have been around for a long time. And during all that time people have been writing covered calls on NFLX and making money. Sure, it might get called away a few times but you can always buy more shares the following Monday and write additional in-the-money calls to keep the premium capture moving along.
So, for those of you who don't mind holding on to one of the above 10 stocks for possibly months or years, with the knowledge that "M&A target status" could keep their shares at decent levels for quite some time, as well as taking the risk that they may lose their target status and fall, read on...
Covered Calls On M&A Targets
Plugging those 10 symbols into the Watchlist feature for the May 15 expiration and eliminating any that have an earnings release before then, we get 2 symbols that yield 24%/year or more in annualized return: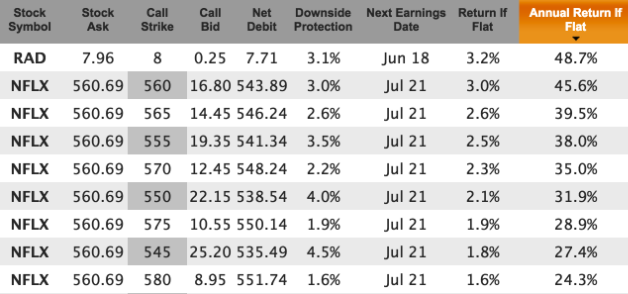 Interesting that for NFLX the in-the-money and the out-of-the-money options have about the same time premium. NFLX is around 560 (the at-the-money strike), and the 555s (5 points in the money) and 565s (5 points out of the money) offer similar returns. Likewise, the 550s (10 points ITM) and 570s (10 points OTM) offer similar returns. Same thing with the 545s and 575s (15 points ITM/OTM). More conservative investors will want to choose something deeper ITM (like the 545s).
If you're willing to take earnings risk before the May 15 expiration then there are many more candidates that yield more than 2%/month annualized return: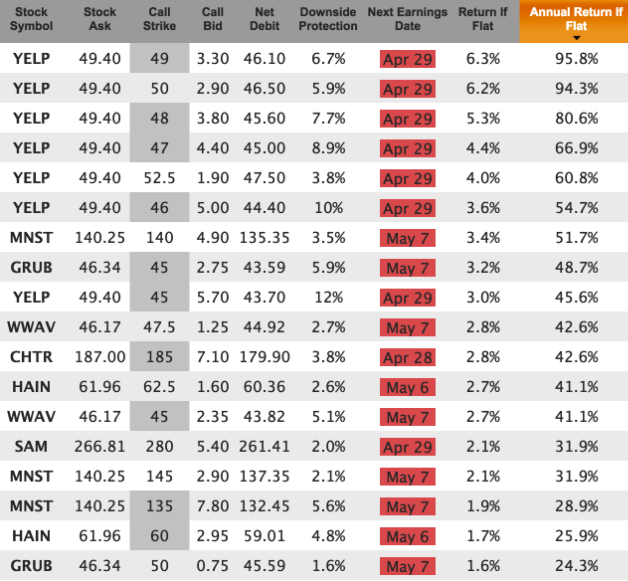 Remember, these aren't recommendations and you shouldn't trade them blindly just because they're on some list. There is a real possibility that they won't be acquired, so buying them solely with the expectation that acquisition is a certainty would probably be a failed strategy.
In addition, buying stocks before earnings, especially ones with high P/E ratios (as many of these have), is risky. But if you do research and like them for non-M&A reasons as well, then they could be good covered call candidates for you. For pre-earnings release you'll probably want to look at the in-the-money covered calls. Keep your position sizes reasonable and stay diversified. And there's nothing wrong with waiting until after earnings before buying. The returns on your covered calls will probably be lower for the first holding period, but so is the risk. Happy hunting.
Mike Scanlin is the founder of Born To Sell and has been writing covered calls for a long time.