Increasing a company's dividend is often a bullish sign that management believes their company is doing well and will continue to do well. And each dividend increase will increase the number of income-oriented investors and funds that are interested in owning the stock. These could be decent candidates for covered call investors as well.
Here are 19 stocks that announced an increase in their future dividend payments within the last week. The "Amount of Dividend Increase" is relative to what each company's previous dividend policy was. For example, if they previously paid 10 cents/qtr and now their paying 12 cents/qtr, that would be shown as an increase of 20% (2 divided by 10) on this chart:
Company
Symbol
Amount of
Dividend Increase
ABM
ABM
3.4%
Amgen
AMGN
31%
CubeSmart
CUBE
37.5%
CVS Caremark
CVS
38%
FMC Corp
FMC
50%
General Electric
GE
12%
General Mills
GIS
8%
CapLease
LSE
8%
Moody's Corp
MCO
25%
Pier 1 Imports
PIR
25%
Quad/Graphics
QUAD
20% + special
RAIT Financial Trust
RAS
11%
RLJ Lodging Trust
RLJ
24%
Roper Industries
ROP
20%
SEI's
SEIC
7% + special
Starwood Property
STWD
special
The Toro Company
TTC
27%
WD-40
WDFC
7%
Waste Management
WM
2.8%
Screening For Covered Calls
If you enter all 19 symbols into Born To Sell's Watchlist (for covered calls) and then sort the results from highest to lowest annualized yield for the Jan 19, 2013, expiration, these are the top 10 results: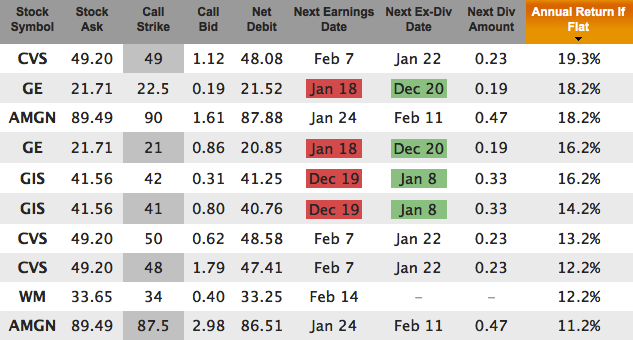 The red dates on some rows are warning us that there is an earnings announcement prior to the option expiration day (for GE and GIS).
The green dates are telling us that there is an ex-dividend date prior to the option expiration day. The return calculations shown do include the dividend payment along with the option premium.
Some of these are in the money (indicated by dark grey in the Call Strike column) and some of these are out of the money. In either case, the Annualized Return If Flat ("flat" means the stock price is unchanged between today and expiration day) is greater than 11%. Not a bad return for conservative income investors who like to see confidence (via dividend increases) from their management teams. All of these require additional diligence but this list is a reasonable place to start looking.
Mike Scanlin is the founder of Born To Sell and has been writing covered calls for a long time.