Given the horrible first week of the trading year, many stocks are now at attractive valuations. Cantor Fitzgerald has chosen 6 Internet stocks they are positive on, while TheStreet has picked 5 different tech stocks they feel are due for a rebound given recent declines.
Cantor's Internet Stock Picks
Large-cap Internet stocks generally performed better than smaller stocks in 2015, and Cantor Fitzgerald expects 2016 will once again be "a stock picker's market." They favor "high-quality names with identifiable catalysts at reasonable valuation," but stocks which have doubled like Netflix and Amazon, "will be challenged to show a repeat of 2015 in our view, considering raised expectations and current valuations."
Cantor's Internet picks for 2016:
Pick
Symbol
Recent
Price
Cantor
Target Price
Facebook
FB
99.25
130
Alphabet
GOOGL
721.12
880
Expedia
EXPE
113.39
180
LinkedIn
LNKD
218.12
300
Shutterstock
SSTK
32.68
65
ComScore
SCOR
37.62
60
TheStreet's Tech Stock Picks
While investors run for the doors with reckless abandon, TheStreet feels what they should be doing is looking for opportunities among the reduced valuations. When putting together their list, TheStreet focused on three things: strong fundamentals, supporting technical patterns and signs that the stock is not "overloved." The last factor is vital, as stocks that are saturated with bullish investors tend to be sold more heavily during pullbacks as investors rush to sell.
TheStreet's "timely buys" tech picks:
Pick
Symbol
Recent
Price
6-month
Target Price
Broadcom
BRCM
54.58
65
Adobe Systems
ADBE
88.64
110
Advanced Micro Devices
AMD
2.16
3
Microsoft
MSFT
52.68
60
Nvidia
NVDA
30.15
36
Covered Calls On Tech Stocks
All of the 11 picks above trade weekly options except ADBE, SCOR, SSTK. If we plug the other 8 into Born To Sell's weekly covered call Watachlist for the Jan 22 expiration, we find many at-the-money or in-the-money covered calls that offer annualized returns of 17% or more (with no earnings before expiration):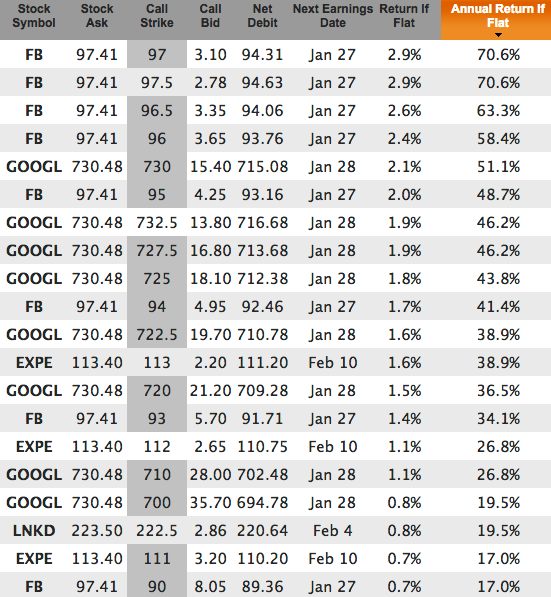 If we plug in all 11 picks and set the expiration date to the nearest monthly expiration (which is only 5 trading days away), we find 2 stocks offering good returns by Jan 15: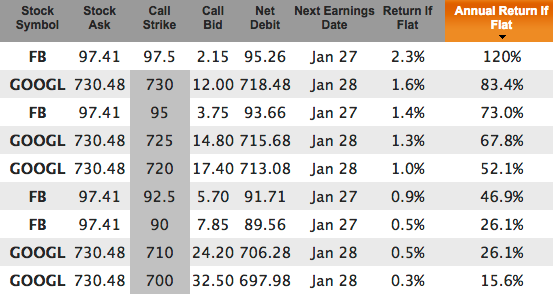 By going out to the Feb 19 monthly expiration we find several more offering good returns, but all of them have an earnings release prior to the expiration: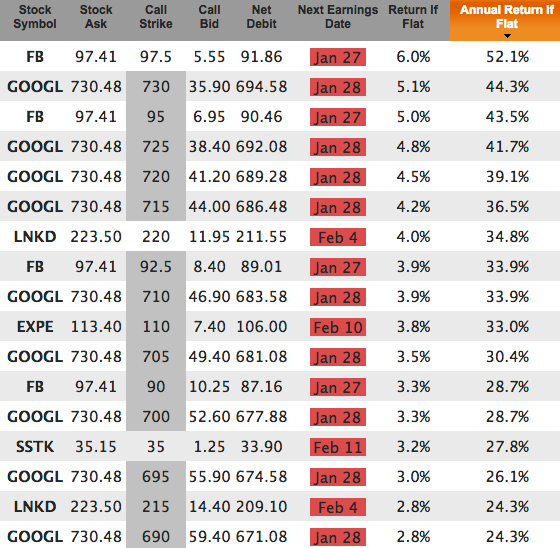 Tech stocks can be fickle animals. They rarely pay dividends and they can be tremendous momentum plays sometimes. However, sometimes they benefit from real growth as consumers adopt their technology and the firms benefit from the leverage and high margins that patented technology can provide.
As always, these are not trade recommendations. They are candidate trades based on picks from Cantor Fitzgerald and TheStreet. Do your own research, keep position sizes modest, and stay diversified.
Mike Scanlin is the founder of Born To Sell and has been writing covered calls for a long time.