The investment firm Oppenheimer published a list today of 10 stocks they recommend buying on any weakness. This list consists of stocks that are (1) coming off a new high, and (2) have a bullish relative trend, and (3) screen positively based on trends in earnings revisions (according to Oppenheimer).
Oppenheimer's 10 Stocks To Buy On Weakness
Here are their picks, in alphabetical order:
Symbol
Recent Price
52-week High
Decline from
52-week High
AGN
308.01
340.34
-9.5%
AMZN
518.01
580.57
-10.8%
AZO
726.39
754.90
-3.8%
CVS
104.18
113.65
-8.3%
EXPE
116.51
128.47
-9.3%
NKE
112.50
117.72
-4.4%
RCL
88.86
92.68
-4.1%
REGN
536.70
605.93
-11.4%
SBUX
55.63
59.32
-6.2%
V
72.46
76.92
-5.8%
Covered Calls On Oppenheimer's Picks
You can read this article to find out more about these 10 companies and why Oppenheimer likes them. In the mean time, if we plug them into the Born To Sell covered call screener and see if we can increase the income while reducing the risk even further.
For the Sep 4 weekly expiration, there are at least 30 covered calls offering Annualized Return If Flat (ARIF) of 65% or more: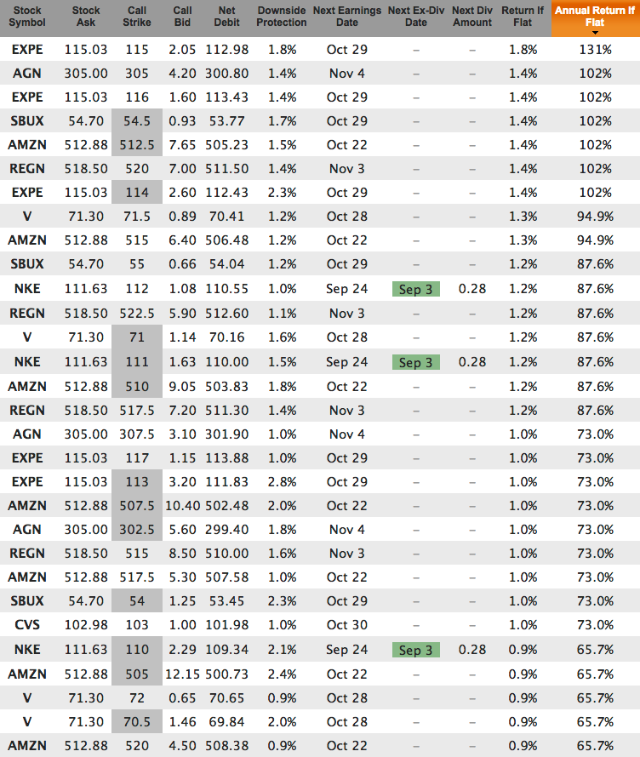 Conservative investors will be (and should be) nervous when premiums are this rich. Sometimes it's a good idea to sort the results by another metric, like Downside Protection, to reduce risk.
The following list is for the same weekly expiration date, September 4, but has deeper in the money covered calls at the top of the list: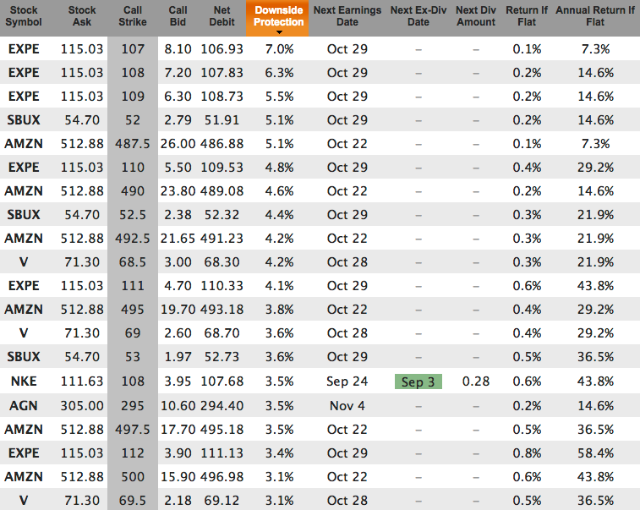 You probably want to ignore the 7.3% returns (because after transaction costs there won't be much profit left in those trades). But the others might be reasonable for a 4 day trade before a holiday weekend.
Oppenheimer's Picks With Monthly Covered Calls
For a trade longer than 4 days, let's look at the September 18 monthly covered calls. There are 17 covered calls from this set that offer ARIF of 22% or more: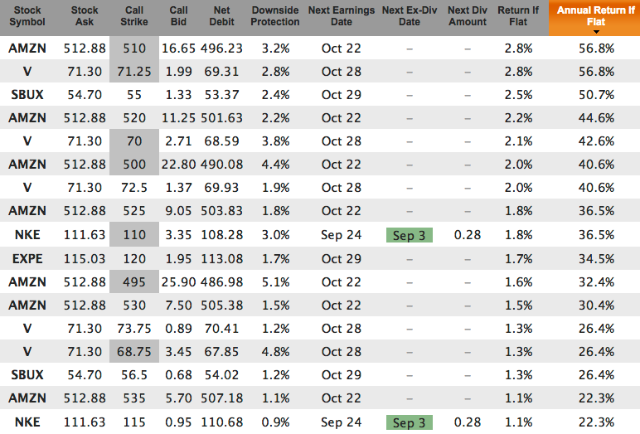 And if we sort the Sep 18 expiration date by Downside Protection then we get these 21 that offer 0.9% downside protection or better: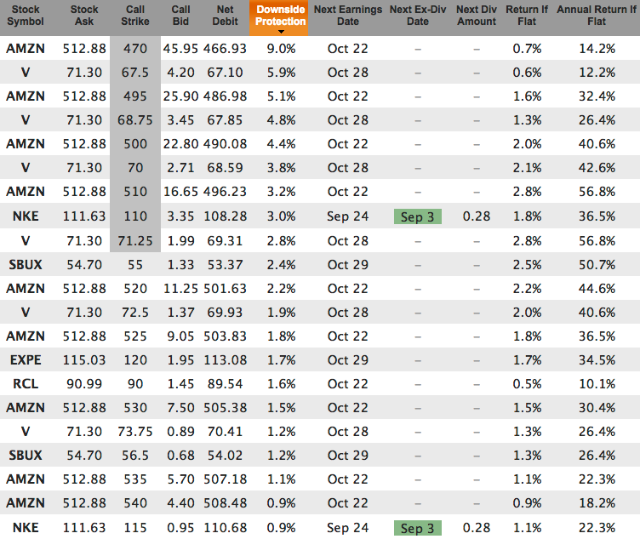 Lots of double-digit ARIFs in that list to check out. As always, these are not trade recommendations. These are candidate trades ideas only. Do your own research, keep position sizes modest, and stay diversified. Good hunting!
Mike Scanlin is the founder of Born To Sell and has been writing covered calls for a long time.