Zacks Investment Research offers stock rankings that have historically done well. Since 1988 the Zacks Rank #1 picks have averaged 26%, beating the S&P 500 by nearly 3x during that time, including a 43.8% return from 2000-2002 when the stock markets suffered record declines.
They have just issued their 7 Best Stocks For The Next 30 Days. These 7 are among the 200 stocks that are currently ranked #1 as Strong Buys.
In addition, they have come up with a list of Five S&P 500 Losers From 2015 That Should Rebound. The 5 stocks have a Zacks Value Style Score of "A" or "B" and are combined with a Zacks Rank #1 (Strong Buy) or Zacks Rank #2 (Buy).
7 Best Stocks For January 2016
First, let's review their 7 picks for January (if you want the details on why they chose these you can download the PDF Best Stocks For The Next 30 Days):
| Pick | Symbol | Div Yield |
| --- | --- | --- |
| Bojangles | BOJA | - |
| Darden | DRI | 3.1% |
| General Motors | GM | 4.2% |
| JA Solar Holdings | JASO | - |
| Photronics | PLAB | - |
| Steris | STE | 1.3% |
| Vail Resorts | MTN | 2.0% |
Of those 7, only 1 has weekly options traded: GM. If we look at the covered calls with Jan 29 expiration (since Zacks picked these for the month of January), with GM closing at 31.27 today, we find several in-the-money and several out-of-the-money that offer annualized returns of more than 1%/month (12%/year):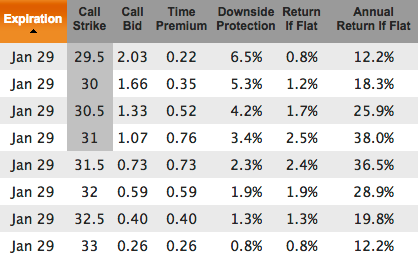 For the 6 stocks that don't trade weeklys we have to go out to the Feb 19 expiration, and there are only 3 that offer 1%/month or better. But 2 of those have an earnings announcement before option expiration:

5 Losers From 2015 That Should Rebound
For value investors, Zacks published a list today of five S&P 500 stocks that didn't do well in 2015 but which they feel could rebound based on the strength of their fundamentals. They characterized these companies as excellent choices now available at relatively attractive prices. They also have a good Zacks Value Score and Zacks Rank.
Pick
Symbol
2015
decline
Zacks
Rank
Zacks
Value Score
Div
Yield
American Airlines
AAL
-21.4%
2
A
0.9%
Flour
FLR
-22.2%
2
A
1.8%
Qorvo
QRVO
-27.7%
2
B
-
United Rentals
URI
-30.0%
1
A
-
Wal-Mart Stores
WMT
-28.6%
2
A
3.2%
Looking at the Jan 15 expiration, all 5 companies offer double-digit annualized returns for covered calls: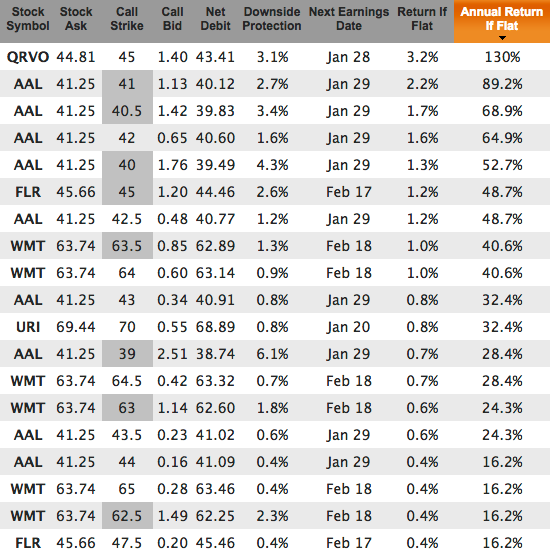 Going out to the Feb 19 expiration all of the double-digit return choices have earnings risk: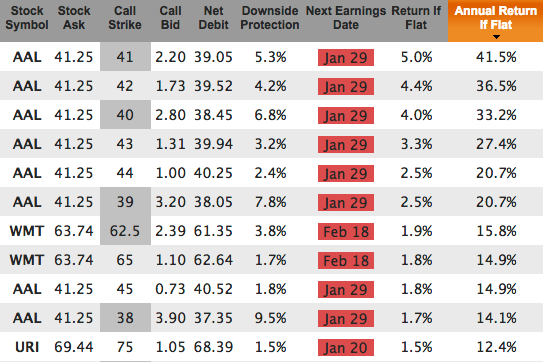 Note: These are not trade recommendations. They are candidate stocks from Zacks. Do your own research, keep position sizes modest, and stay diversified.
Mike Scanlin is the founder of Born To Sell and has been writing covered calls for a long time.