John Devine's article 3 High-Dividend Energy Stocks to Buy Now at InvestorPlace.com points out that energy stocks haven't done so well in 2014. Easy to understand with oil dropping from over $100 in late June down to below $54 last week. However, there is a silver lining in most things and John points out that income investors hunting for high-yielding dividend stocks should look at the beaten-down energy sector where quality dividend stocks are selling on the cheap.
High Dividend Energy Stocks
John likes 3 energy stocks in particular because of their high dividends and relative stability: COP, CVX, and XOM. You can read his original article to find out his reasons for liking them, but here are the current stock prices and dividend yields (as of Dec 29, 2014):
| Symbol | Ask Price | Div | Yield |
| --- | --- | --- | --- |
| COP | 70.25 | 2.92 | 4.2% |
| CVX | 113.40 | 4.28 | 3.8% |
| XOM | 93.19 | 2.76 | 3.0% |
Energy Stock Prices In 2014
COP opened 2014 at 70.27 and closed virtually unchanged at 70.11 on Dec 29: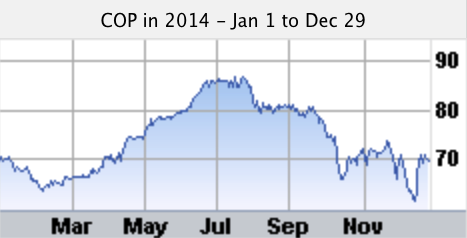 CVX opened 2014 at 124.46 and closed down about 9% at 113.32 on Dec 29: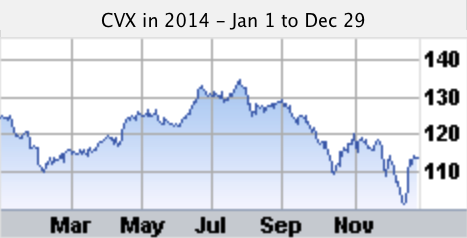 XOM opened 2014 at 100.60 and closed down about 7.5% at 93.07 on Dec 29: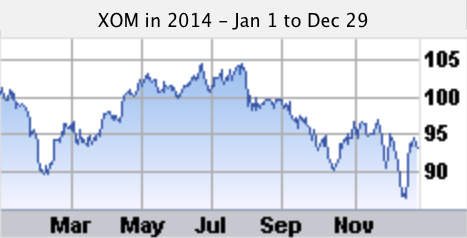 Overall, these stocks underperformed in 2014. However, unless you believe oil prices will remain below $60/barrel 12 months from now, 2015 could be a good year for these energy stocks.
Covered Calls On High Dividend Energy Stocks
All 3 of these stocks are solid companies that make good candidates for dividend income and covered call writing. If you plug them into Born To Sell's Watchlist feature, you find several combinations of strike prices and expiration dates that yield at least 1%/month or more on an annualized basis (i.e. their Annual Return If Flat is >= 12%). For example, here are 16 weekly covered call combinations expiring Jan 2nd, this Friday (a 4-day trade):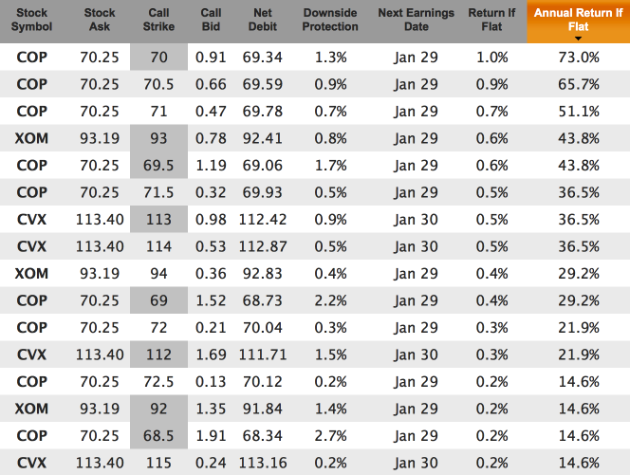 If we go out a week farther to the Jan 9 expiration, we find 27 combinations yielding 12% or more on an annualized basis (an 11-day trade):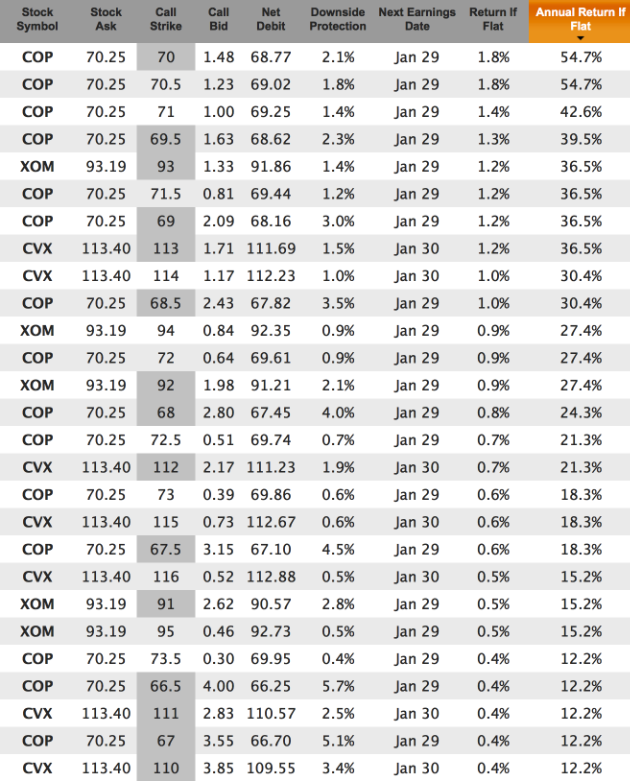 And if we go out to the monthly Jan 17 expiration, we find 8 combinations yielding 12% or more on an annualized basis (a 19-day trade):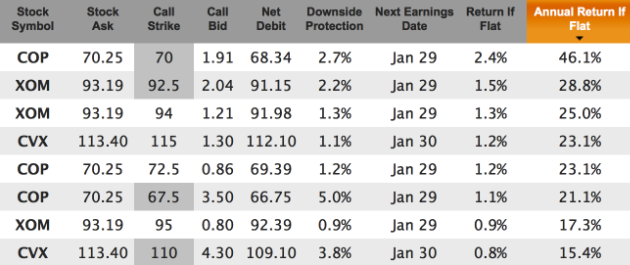 There are no anticipated earnings release dates or ex-dividend dates before the Jan 17 expiration. Also, in addition to John's recommendation, Exxon Mobil received another vote of confidence from TheSteet.com a couple weeks ago (see our article Best Dividend Stocks For 2015).
Note: These are not trade recommendations. These are candidate trades based on John's suggested high dividend energy stocks for 2015. Do your own research, keep position sizes modest, and stay diversified.
Mike Scanlin is the founder of Born To Sell and has been writing covered calls for a long time.