On Friday, Louis Navellier's article at InvestorPlace named 7 top-rate healthcare stocks that have decades of growth ahead of them. They are AET, ANTM, INCY, LLY, REGN, SYK, and UNH.
Mr. Navellier points out that there are 76M baby boomers in the US today, and that by 2029 the youngest of them will be 65. This aging demographic should be a boon for well run and well positioned healthcare companies over the next couple of decades.
Navellier's Top 7 Healthcare Stocks
Here are his picks, along with recent price and dividend data:
| Symbol | Recent Price | Dividend Yield |
| --- | --- | --- |
| AET | 117.89 | 0.9% |
| ANTM | 147.09 | 1.7% |
| INCY | 131.01 | - |
| LLY | 81.80 | 2.5% |
| REGN | 533.30 | - |
| SYK | 99.65 | 1.4% |
| UNH | 118.70 | 1.7% |
Covered Calls On Navellier's Picks
You can read this article to find out more about these 7 companies and why Navellier likes them. In the mean time, let's plug them into Born To Sell's covered call screener.
For the Sep 18 monthly expiration (which expires in 5 days, so this is a weekly trade), there are 10 covered calls offering Annualized Return If Flat (ARIF) of 20% or more: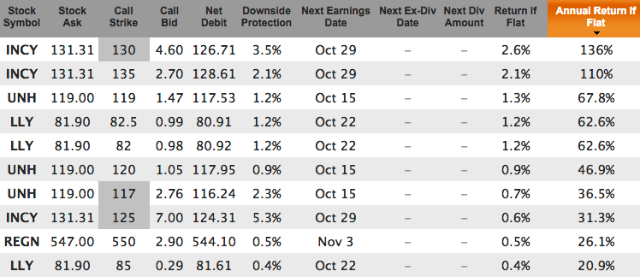 If we go to Yahoo Finance and enter INCY to take a look at the headlines you'll see mention of a new clinical trial for ovarian cancer, as well as a rumor of a buyout. These kinds of events can be tricky to play with covered calls because if neither fails to happen (successful trial nor successful buyout) then the stock will likely drop. Maybe best to look elsewhere if you are a conservative investor.
If we look at the Sept 25 expiration (2 weeks out) then we see that LLY, UNH, and REGN dominate the high-yield candidate list: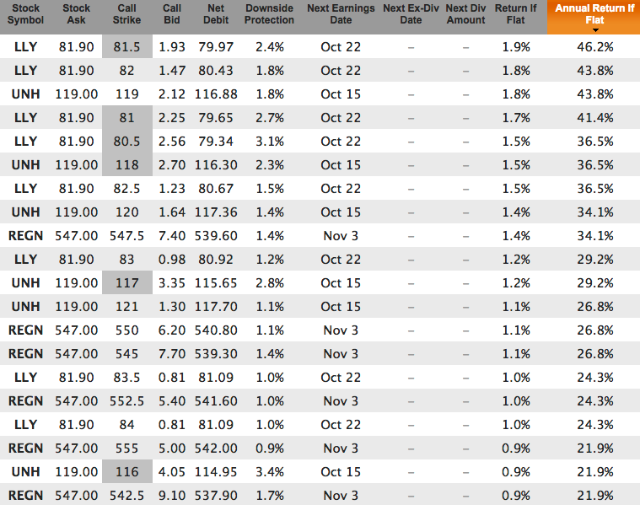 October Covered Calls On These Healthcare Stocks
For investors who want to go out to the Oct 16 monthly expiration, we find there are only a few candidates offering ARIF > 13%:

From this list the one that stands out as most typical for conservative covered call writers would be the in the money LLY 80-strike. It's a couple of points in the money (which when combined with the time premium offers more than 4% downside protection) and still has an ARIF > 18% (more than 1.5%/month). Solid company with a reasonable covered call profile.
As always, these are not trade recommendations. These are candidate trades ideas only. Do your own research, keep position sizes modest, and stay diversified. Good hunting!
Mike Scanlin is the founder of Born To Sell and has been writing covered calls for a long time.