This is a continuation of an AAPL covered call trade started on December 5, 2012. For the history of this trade, please see our page on AAPL.
AAPL Price Jump And Volume Spike Today
AAPL opened down this morning but then had a dramatic turn around just after 2:30pm ET. It moved up about 9 points within a couple of minutes, and did so on higher volume, as you can see on this one-day price and volume chart from today: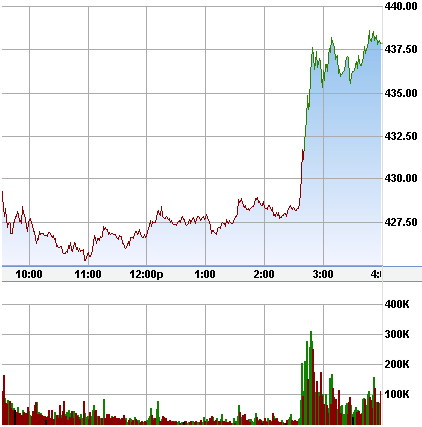 The cause of enthusiasm for Apple shares was rumors of some kind of resolution to the "What to do with Apple's cash?" question. Pundits are speculating on 3 likely outcomes: (1) increase in the regular dividend, (2) issuance a special one-time dividend, or (3) a large stock buyback.
What Is Apple Going To Do?
We have no idea, other than it will be something. The odds of them doing nothing relative to their cash situation are small. And whatever they do, it will probably cause more demand for their shares (i.e. share price likely to rise).
Current In-Progress Trades
We have 2 open AAPL trades, for which we've had 8 sets of covered calls expire out of the money. Our current basis is 468.52 or 483.54 (most recent option was sold Feb 7). We are going to leave the stock uncovered until AAPL announces some action relative to their cash hoard, which we expect will be before the end of April, and possibly a lot sooner. At that time we will likely cover the shares with an out of the money call. Stay tuned.
New AAPL Trade
If you are not yet invested in AAPL, or if you don't mind owning more, now is a reasonable time to get in. Smaller accounts could buy 10 shares now and then write a mini covered call on AAPL on March 18 when the mini options start to trade. Or, you could buy 100 shares and write an at-the-money call right now.
Mike Scanlin is the founder of Born To Sell and has been writing covered calls for a long time.