Every year for the last 20 years Barron's has published stock broker reviews where they offer up their ratings of the best brokers, awarding up to 5 stars in 8 different categories.
Best Stock Brokers 2015
Three brokers received 4½ stars (out of 5) and sit atop this year's ranking. Interactive Brokers wins the No. 1 spot for the fourth year in a row. They edged out newly launched OptionsHouse, in second, and TD Ameritrade, in third. These three firms offer very different online experiences and are meant to appeal to different types of investors and traders.
Because investor needs are diverse, Barron's chooses leaders in six categories: frequent trading, in-person service, international investing, long-term investing, services for novices, and options trading: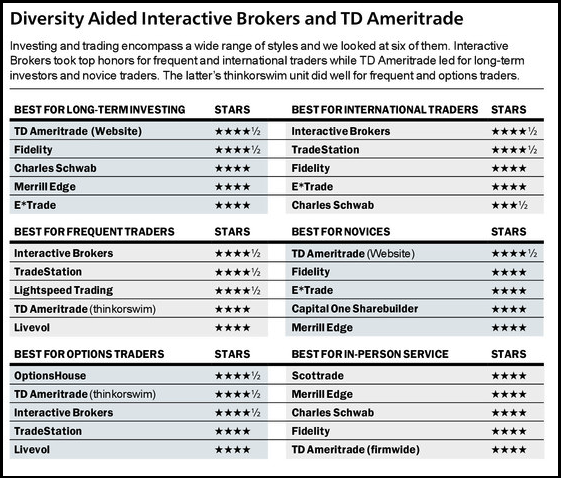 For low-cost brokers, the winners are in 2 categories: Occasional traders and frequent traders.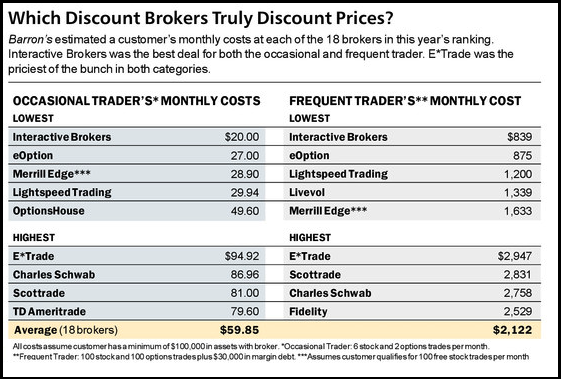 Barron's defines "occasional" as 6 stock trades and 2 option trades per month, and "frequent" as 100 stock trades, 100 option trades, and $30K of margin debt per month.
You can read the full report on Barron's site.
Mike Scanlin is the founder of Born To Sell and has been writing covered calls for a long time.